André de Jager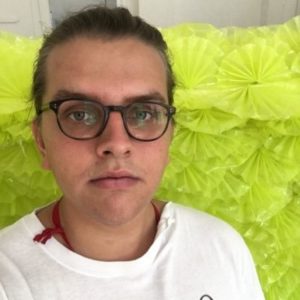 , a semi-finalist in this year's Adobe Design Achievement Awards, is one half of the creative team behind SMILE, a campaign aimed at driving social change among South Africa's youth.
As a former student of Vega (a brand of The Independent Institute of Education – The IIE), de Jager took part in the 2017 Vega Brand Challenge which sparked the idea to create a campaign that encouraged young people to do more for others. Along with his 'partner in crime', Ayesha Kaprey, de Jager entered his 2017 Brand Challenge submission into the 2018 Adobe Awards, and was subsequently chosen as a semi-finalist in the internationally-recognised competition.
Give us a run-down of the SMILE campaign you developed?
Operation Smile approached us to help make them relevant to the next generation of donors. They wanted young people to be passionate about their brand and, of course, to donate and help. We first interrogated the relevance of 'help', 'donation' and 'involvement' in terms of brand building. We figured through our research that people do care about the issue, and about helping, but that there is no 'cool' or relevant way to participate or donate.
So, we created a new project called SMILE, a project that champions the simple power of a wide grin. We wanted to create a product that adds value to the lives of the donors – we wanted to add value to the experience of doing good. A positive turnaround of "what's in it for me" to "I do this for them and myself".
Whether that's a t-shirt, some sweats or whatever's trending, donations and goodwill are built into the price of every item. We defined modern goodwill as a place where you can do good, look good, and feel good. Being a good person can be a part of your aesthetic. We created an evolving brand identity that can easily move and shift with the tastes and trends of what's cool now – because how do you keep up with the kids? You go on the ride with them!
 The idea of a 'shifting' brand identity is intriguing – how did you (and your team) come up with this?
We're trying to compete in a space where memes and selfies – not brands – get a million likes. Creating an evolving brand was key to our insight that our audience's tastes and attention shifts from scroll to scroll. We had to create a project that could shift with them.
 Take us through some of the elements you chose to include in the campaign and why?
The campaign was centered around the way we use our phones. From scrolling for aesthetic, to online shopping to using services like Snap-Scan to pay for things in real life.
All of our touch pints included personalized Snap-Scan QR codes that you use to get money donated through your personal account.  This dovetails into the reward mechanism we use to encourage people to get others to donate through their account. Get others to scan your personal code on the products you've purchased and received from SMILE and then you get rewarded.
 What sort of research was conducted ahead of this project?
We went out to do field research and approached our peers with the same questions we'd ask ourselves – why would you donate? They all cared, but none of them knew how to help. The old way of helping and donating has become outdated and inaccessible, because traditional philanthropy asks for a combination of time, money and effort. Our target market have none of that – all they have to give is their voice and aesthetic.
Our research deduced that their apathy is a symptom of brands that were totally out of touch – I wouldn't go out of my way, I won't ruin my aesthetic etc. The ME-generation do care! Donation has become an inaccessible and tedious activity.
What was the most challenging part of the project for you?
The most challenging part was balancing SMILE on top of representing Vega at the Loeries with a two-week deadline to create and package the whole project!
… And the most rewarding part?
I'd say the same for any project – it's always great to see things come to life and to see others get excited about it.
Everybody just wants good vibes, and I'm a sucker for pleasing people – whether that's a good Instagram post or a campaign for change. Causes have a true purpose, beyond 'the brand', and this makes them fun to work with – both for the process and the results.
Did you take any new learnings from the experience?
Every project comes with new challenges! We had to figure out how to brand clothing, and then we had to figure out how to make it look good. A t-shirt is a very awkward shape to make look good! We spent a whole night in the studio just figuring out our lighting and editing style.
Where to from here?
My partner in crime, Ayesha Kaprey, and I have our heroes we look up to, and one of those are KesselsKramer in Amsterdam. They're the OG sardonic ad-agency that Ayesha and I dream / have nightmares about working for. At the end of our student career we sent them a box with our portfolios and cv's, along with an Afrikaans dictionary, our own version of their Useful Photography books and some Chappies. They really enjoyed our application and invited us over for an apprenticeship as a team! We're starting our work there in January 2019.
For more information on IIE qualifications available to study at Vega and other career-building opportunities, visit www.vegaschool.com.