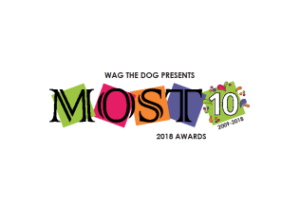 It's a bumper year for big birthdays and as the MOST Awards reach their first decade, we look forward to celebrating with others in the industry that have also reached major milestones.
"A milestone birthday is a time to reflect on all that we have achieved as an industry, but also to kick up our heels and celebrate our resilience and constant ability to overcome the challenges to rise to excellence," says Sandra Gordon, founder of the MOST Awards.
The Mediashop on what it means to turn 30
"Thirty years ! Wow, it has been a heck of a ride for the agency. From a small offshoot of a creative agency, to what we are today, is absolutely amazing, and testament to the pioneering spirit of the agency members and partners," says Chris Botha, Managing Director of The Mediashop.
"What will it take to stick around and thrive for the next 30? Adaptability to change, and a pioneering spirit will make sure we are still here come 2048! What do we wish for? That every person that comes in contact with The MediaShop experiences our spirit, and our vision."
Kagiso Media turns 21
Rob Abraham, Group CEO of Kagiso Media (acting) had this to say about turning 21: "Kagiso Media has grown and diversified incredibly well over its 21-year history, but we have kept the creation of quality content for our audiences and customers at the core of our operations from day one. Radio still accounts for a significant portion of our success and with brands like East Coast Radio, Jacaranda FM and of course Mediamark in the stable we have no doubt that we will continue to serve our current and new listeners beyond their expectations for many years to come.
"Urban Brew Studios has built a solid reputation for quality TV content and now has the physical capacity to take them to another level – they have just opened their new state-of-the art facilities in Randburg. Juta, as one of SA's oldest companies, is a major contributor to our education and judicial institutions – both critical enablers of our nations development, and Kagiso Media's enduring part of it.
"In the next 21 years our story will be one of continued growth and sustainable and meaningful contributions to our markets through our great companies and their excellent teams."
Kaya FM also comes of age
""Having started off as a brand established in a transitioning South Africa, Kaya FM has grown into a thought leader, a soulful radio station and the voice of the discerning Afropolitan listener. It is our business to provide our listeners with content that is a rich mix of music, news, sport and topic-driven features at the standard they've become accustomed to.  As we celebrate our 21st year in business we stand proud that the next era will see us grow with our audience, providing them with quality content and entertainment that will etch our place in the industry as the Home of the Afropolitan," says Brenda Modibane, Head of Marketing and Business Development.
 Let the festivities begin
Join us at the MOST Awards on 13 September 2018, at The Wanderers Club, Illovo for a night of networking, awards and celebration.
For more information or to sponsor the MOST Awards 2018 please contact Sandra Gordon on sgordon@stonesoup.co.za or Melanie Warricker on 072 480 6123 or melanie@ifeelgood.co.za.