Tribeca Public Relations has promoted Mmabatho Segole to an Account Manager as she has continually shown enthusiasm, passion and skills development since joining the company in December 2016.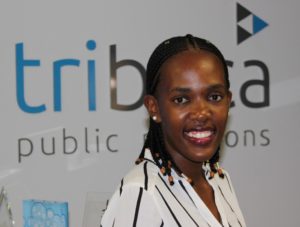 Mmabatho works with a number of diverse clients, including Nimue Skin Technology, AgeWell, Solal Skincare, JA South Africa and KidZania, and supports colleagues working with Consulta, Saab, Secure Drive and Montego Pet Nutrition.
"Mmabatho has achieved great results for her clients, and is firmly committed to sharpening her PR skills by taking full advantage of Tribeca's in-house training programmes, in addition to pursuing her own part-time studies," says Nicola Tarr, business unit director at Tribeca Public Relations.
"We are proud of the mature and trusted account manager she has become, and look forward to her continued growth and development in the years to come."
Mmabatho holds a Bachelor of Arts in Corporate Communications from the University of Johannesburg and is currently working on her BA Hons in Integrated Marketing Communication.