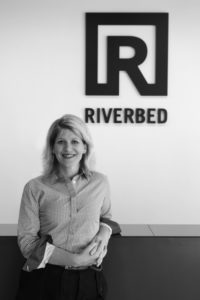 Bridget Johnson needs little introduction in the ad industry. For the past 20 years, she's been building her career as a respected creative, who has made her mark on multiple brands, winning numerous local and international awards for both creativity and effectiveness.
Late last year, Bridget partnered with Monalisa Sibongile Zwambila at Riverbed on aware.org's festive season Re-Think, drive-through bar campaign, which significantly exceeded expectations and targets, while shaping social impact. The campaign is testament to Riverbed's new-found commitment to creating brand experiences that people want to spend time with.
Now having joined Riverbed full-time, Bridget is set on leading the creative team to deliver more big ideas that create big impact. "Riverbed is already home to talented people from diverse disciplines. The agency environment is loose, free and fluid, and there's already an established culture of brainstorming and idea-sharing, which helps to spark powerful ideas, and fast-track the turnaround times," expressed Bridget.
She added, "The boundaries between brand communication channels are fast dissolving, opening up more opportunities than were previously considered in the more traditional spaces. In a world where consumers are demanding more purpose-led, authentic brands, our mix of skills presents a fresh perspective. I'm especially excited about grooming the younger creatives to focus on powerful ideas in a fragmented, and ever-changing industry."
Together, Monalisa and Bridget have big ambitions to leverage the growing convergence of disciplines within the industry, to foster more ideas-led and even greater social impact-type work. The formidable duo are boldly carving out a path for the agency to become the best independent agency.
During 2018, Riverbed underwent a brand renaissance to become more contemporary and relevant after celebrating more than a decade since it was founded. The independent, black female owned, full-service, TTL creative agency re-centered its purpose to create compelling work that truly engages audiences by capturing and holding their attention.
Bridget worked as a copywriter after achieving her Bachelor's Degree from Rhodes University, majoring in Literature and Law. Throughout her career, Bridget has worked on renowned brands including amongst others; KFC, Coca-cola, Huggies, Cadbury, Unilever, SAB, Audi, Opel, Investec, Nedbank, Exclusive Books, Nando's and Vodacom. She headed up creative on the Vodacom account between 2013 and 2015, which led to unprecedented results in those years. Her work became the network benchmark and was replicated in other markets. She has also judged at Cannes and serves on the Creative Circle EXCO.
Monalisa commented on Bridget's appointment, saying "Against the back of recent agency successes, Riverbed is ideally positioned for a sharp growth trajectory. And having Bridget steer the creative course inline with our aspirations is stirring up all kinds of excitement and curiosity within the agency and amongst our clients. Bridget is incredibly talented and a truly likeable character, and we are really thrilled to have her on-board."