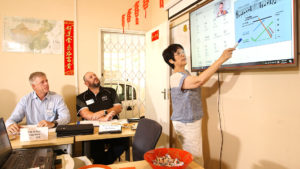 On CNN's Marketplace Africa, host Eleni Giokos learns how African companies are being educated on Chinese business etiquette to get an edge over the competition and help close deals with Chinese investors. Throughout the programme Giokos speaks to a range of industry experts including Director of the Mandarin Training Centre, Lucia Hau-Yoon, and Managing Director of IMS Engineering, Paul Bracher.
Paul Bracher explains why his employees are taking Chinese lessons at Lucia's Mandarin Training Centre: "In business it's very difficult to get two teams to gel that speak the same language, now you're talking multiple languages and cultures… We're putting the whole team through Mandarin and cultural exercises so they get a basic understanding. And it's not that you need to speak the language fluently but you need to have an understanding and you need to build bridges with all the parties."
According to a recent McKinsey report, there are over 10,000 Chinese firms operating on the African continent, however, CEO of Asani Group, Zweli Dladla, argues language does not matter as much. He says: "I don't think it's an language issue its more of a value proposition issue – if you are able to make a Chinese investor see that coupling their product or service that they are trying to bring to Africa with the local support."
Another individual who understands the importance of Chinese and African etiquette is Jackie Liu who moved to South Africa 22 years ago. He suggests that his travel agency, China International Travel Agency South Africa, facilitates about a third of the 100,000 Chinese tourists that visit the country every year. He tells CNN: "The business traveler is becoming more…. and more we see more percentage rising than the normal tourist… Private companies do invest here…we've already [found] Chinese investors buying the wine farms to rename and send to China."
Despite the slowing down of the Chinese economy and US/China trade war, Liu suggests that many will still invest in Africa if the local population continues to make a good impression: "The concern is normal tourism. Business traveler[s], because between US/China trade war they may find more opportunity in Africa they want to try get early bird."
Marketplace Africa is sponsored by Dangote Industries.
Marketplace Africa airs at 1615 SAST on Friday 5th April on CNN International.
The show also airs at the following times:
Saturday 6th April at 1715 SAST
Sunday 7th April at 0000 SAST, 0400 SAST and 0815 SAST
Monday 8th April at 0300 SAST and 1845 SAST