Any time, any place, any mood, any occasion – Spotify has the best music and podcast content available for its more than 217 million users. As we look to deepen and expand our relationships with consumers, we've launched our latest global brand campaign – a two-pronged approach that underscores the company's ongoing commitment to ubiquity and discovery. As part of this, we will be showcasing a diverse range of content that strikes a chord in each market the campaign lives.
"Spotify has transformed the way people find and enjoy music and podcasts, giving people around the world easy access to the content they can't get enough of – as well as the ability to discover new favourites along the way," said June Sauvaget, Global Head of Consumer & Product Marketing at Spotify. "This multifaceted campaign sets the stage as we seek to deepen our connection with the people who already know and love Spotify and cultivate relationships and moments of discovery in areas of the world where we are looking to expand."
In markets where Spotify has a strong presence, the campaign's goal is to deepen our relationship with our core millennial users and drive consideration among other audiences.
Music and podcasts shine bright in this campaign as we underscore our commitment to giving our users constant access to the content that can soundtrack any mood, any moment, anywhere. The integrated campaign will employ OOH, digital, TV, radio, and social in Australia, Canada, New Zealand, Netherlands, Germany, Sweden, the UK, and the US and feature playlists like Beast Mode and Songs in the Shower plus popular podcasts such as Over My Dead Body.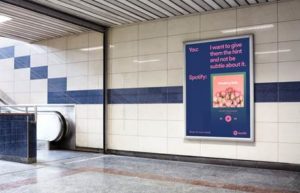 Consumers will also be treated to three humorous film vignettes (Beast Mode, Songs In The Shower and Over My Dead Body) that highlight every day, relatable moments and show the value Spotify and our playlists can add to anyone's day, including solo car singalongs, shower jam sessions and powerfully taking the stairs over the escalator.
Inspired by social media meme culture, the digital and OOH campaign creative highlights how Spotify users interact with each other and the world with the tagline "music for every mood." One of our favourites is below.
The second part of the campaign will live in areas of the world where we have the opportunity to expand our presence with our core, young audience in South African, Brazil, Mexico, Columbia, Argentina, France, Italy, Thailand, Philippines, Indonesia, and Spain. In these markets, we are leaning into the concept of "What's Next." The creative, one example below, underscores that Spotify is the best way to discover new music anywhere and encourages audiences to see the platform as the best way to make music more a part of their lives. Popular songs and artists like Riky Rick, Nadia Nakai, Prince Kaybee and Boity.