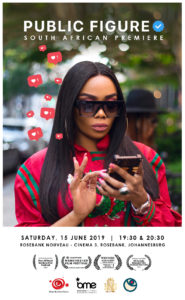 Bonang's film to showcase at the 21ST South African International Documentary Festival
 Having just been awarded the coveted Award for Inspiration & Influence at the Global Social Awards in Prague last week, Bonang Matheba will be debuting her first film, the award winning, Public Figure, at the 21st Encounters South African International Documentary Festival, taking place between 6 – 16 June in Johannesburg and Cape Town.
Festival organizers have taken great strides in making the film accessible to the widest range of audiences, with screenings at the V&A Nouveau in Cape Town on Sunday, June 16th at 20h30, while the marquee event on the screening tour will be a House of BNG tasting and Q&A sessions following the Johannesburg screenings at the Rosebank Nouveau on Saturday, June 15th at 19h30 and 20h30.
After Public Figure's global premiere at the Manchester International Film Festival in March this year, the Encounters South African International Documentary Festival is proud to announce the first local screening of Queen B's co-produced film.
Apart from Bonang, Public Figure features actress Rose McGowan and internet provocateur, Sebastian Tribbie, with an appearance by Denzel Washington, with footage courtesy of CBN. Joining Bonang in South Africa will be Public Figure's director and executive producer, Brian Corso, who will also discuss the film with Queen B at a post-screening Q&A.
"Influencer culture pervades every aspect of modern life. For better or worse and everything in between, I really wanted to be part of this film to show the world, especially my fans in South Africa, the scope and impact of social media and the personas we let into our lives every day," says Bonang Matheba.
Public Figure goes on sale internationally from June 18th, when it will be available for purchase or rented via Amazon and iTunes.
"Bonang is the perfect example of a personality who has made use of social media and transcended it. From fashion to her business endeavours, it's clear that she is more than an influencer, but the connection to the world of social media and the environment in which she has gained her success cannot be ignored. I'm very grateful and excited to show South African audiences and get the reaction of the fans of one of the film's biggest stars," says Brian Corso.
Public Figure has been screened at the Socially Relevant Film Festival New York 2019 in March while it also won the Special Merit award at the Impact Documentary Awards.
After 21 years of service, the Encounters South African International Documentary Festival continues to show why it is not only a premiere documentary festival, but an institution that champions access to the arts for all people, particularly in Africa. For fans who cannot attend the screenings in Johannesburg and Cape Town, Public Figure will be available on streaming platforms in the coming months.