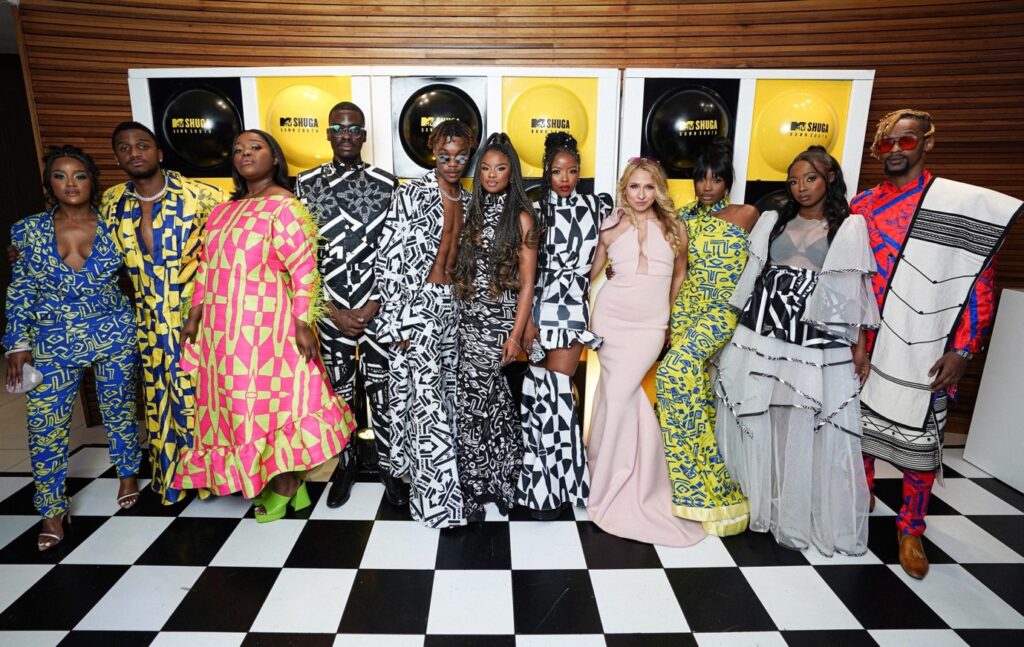 MTV Staying Alive Foundation hosted an exclusive stakeholder panel discussion and watch party to launch the highly anticipated premiere of MTV Shuga Down South Season3 yesterday. Both events held at a Sandton rooftop venue, showcased an exclusive viewing of the first episode of the exciting 10-part drama series, premiering on 27 June 2023.
A panel discussion hosted by television presenter, actress and co-chair of the MTV Staying Alive Foundation Stephanie Ndlovu, and attended by funders, MTV Staying Alive Foundation Board members, Paramount Africa executives and the MTV Shuga cast and crew, highlighted how the MTV Staying Alive Foundation is changing lives through the show as well as MTV Shuga multi-media campaigns that help empower young people to make positive decisions about their health. Independent research found that young people were: 2x more likely to initiate condom use with their partner(s), 2x more likely to know their HIV status and 2x more likely to know about Pre-Exposure Prophylaxis (PrEP) after watching previous seasons of the show.
The evening watch party was hosted by BET presenter Nomalanga Shozi, who rolled out the black and white carpet for the show's seasoned cast, as well as the new faces of MTV Shuga unearthed from an open call to the public late last year including Ayakha Ntunja, Chidera Nwoha, Palesa Mothopi and Lobisa Tsatsi. The evening also featured a live flash mob, giving MTV Shuga fans watching online a glimpse of the vibe for this new season. Celebrities and influencers such as Tshiamo Molobi, Prev Reddy and Tansey Coetzee attended the event, lending their support to the MTV Staying Alive Foundation's mission and guests were treated to exclusive episodes of the upcoming series.
"We are delighted to have hosted these two remarkable events, bringing together our funders, media partners, public health service partners, broadcast and streaming partners, the cast and the crew who share our commitment to creating positive social change through this exciting and educational show. This season is truly exceptional – from the performances to the powerful messages, and we can't wait for audiences to experience it," said Georgia Arnold, Executive Director of the MTV Staying Alive Foundation.
"Paramount Africa is committed to telling authentic African stories and we're proud to be part of such an impactful project aimed at positively empowering young lives. The gripping narratives are home-grown making them relatable, and an excellent way to address critical social issues in a manner that resonates with youth culture," said Monde Twala, Senior Vice President, General Manager and Lead, BET International.
MTV Shuga Down South 3 is funded by the global health agency Unitaid and the Anglo American Foundation. "Adolescent girls and young women in sub-Saharan Africa are contracting HIV at an alarming rate. Women aged 15-25 make up just 10% of the population in the region, yet they account for one-quarter of all new HIV infections. Unitaid is proud to back another season of MTV Shuga, which is vital to ensuring young women and men have the understanding and awareness they need to advocate for themselves and live healthy lives," said Herve Verhoosel, Unitaid spokesperson.
"The programme speaks to one of our strategic pillars focusing on creating thriving communities – where the health and wellbeing of our host communities is a priority. We hope that the programme will create conversations around behavioural changes when it comes to HIV/AIDS, substance abuse, mental health, Tuberculosis, gender-based violence and various issues affecting the LGBTQIAP+ community and will help young people to make the right choices about their reproductive and mental health," said Dr Alexandra Plowright, Community Health and Wellbeing Lead at Anglo American. 
#MTVShugaDS3 will premiere on 27 June 2023 on BET (DStv channel 129) at 21:00 CAT and 20:00 WAT, with repeats on Sundays at 21:40 CAT. It will also be available to stream on YouTube on 28 June 2023. Follow the conversation on social media; Twitter, Facebook and Tik Tok: @mtvshugadownsouth.
Image: MTV Shuga Down South Season 3 Cast Members dressed by Imprint, hair and make-up by Hair Majesty, Studio 353, Nubian Crown, Mizani and L'Oréal Professionals.