24.com in association with its sales team from The SpaceStation, South Africa's leading digital media sales company, hosted an industry-leading workshop on Thursday 31 May to explore how data and audience segments can assist marketers and advertisers address a range of marketing challenges, as well as looking at international trends in data.
Heading up the workshop was Natasha Fourie, Head of Strategy at The SpaceStation, part of 24.com, and Kimmo Kiviluoto, CEO and Co-Founder of Enreach, a Cxense company, based in Finland.  Natasha guided the participants through an in-depth programme around audience segmentation, including examples on how utilising the perfect mix of demographic targeting, behavioural targeting and targeting high interest or intent categories using the right data sets, marketers can identify high potential consumers most likely to convert. Kimmo and Natasha also tackled a Q&A session covering topics such as transparency in data, how the GDPR regulation affects data collection, data quality and data partnerships between publishers and brands.
Says Natasha, "2 years ago we were in the acquisition space with data – everyone wanted data but not everyone was too sure on how best to use it. It has been a steep learning curve and I think we are in a perfect situation now where not only do we have scalable useable data on a variety of audiences, but we have also advanced significantly on how best to use it to influence digital marketing strategies, which is something clients can use straight away. Currently we have over 300 audience segments profiled."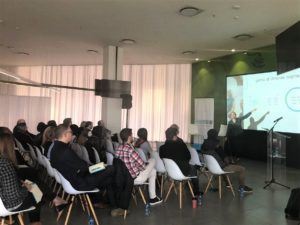 Natasha covered several case studies highlighting the data team's expertise. Our learnings on product reassessment at key life stages and milestones like weddings and pregnancy ensures advertisers maintain top of mind for brand awareness and increases brand association amongst people most likely to convert. For brands who associate with influencers and celebrities, our data segmentation is an essential tactic to target people who know the influencer to maximise the brand benefit. Establishing endemic interest allows us to utilise an audience segment that reaches consumers that have engaged with specific content that is relevant to the brand; and re-target them across our network. We have found that this improves relevance, avoids wastage and allows for increased frequency.
Says Craig Nicholson, Regional Sales Director (North) at The SpaceStation, "At the heart of our segmentation process is the ability to separate audiences into meaningful groups and understanding how to do this is essential for today's marketers. Our innovative combination of the largest online audience in South Africa and a top tech stack, has created a market leading data collection and audience segmentation offering."
The 24.com Data Management Platform covers over 70 sites representing a universe of over 26 million South African users across mobile and app (18 million), desktop (6 million) and tablet (1.7 million), with over 916 million page views over a 62 day period. For more information go to www.thespacestation.co.za or follow them on Twitter – @SpaceStationZA.