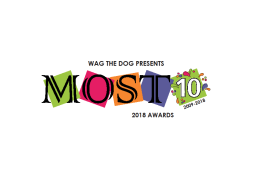 Ticket sales for MOST Awards open on 25 June 2018 for what will be a bumper celebration as MOST celebrates its first decade on 13 September 2018 at The Wanderers Club in Illovo, Johannesburg.
The overall goal of the MOST Awards is to inspire media owners and media agencies to improve the efficacy of their businesses through service performance. The awards celebrate excellence in the media industry and encourage healthy competition, and as a result better performance.
The annual highlight on the media industry's networking calendar not only celebrates the sectors best of the best in terms of service delivery, knowledge and innovation, but this year in particular offers an opportunity to reflect on the successes, challenges and changes in the media industry as revealed by MOST's research survey.
"The past decade has been a period in which the media sector has undergone enormous changes," said Sandra Gordon, CEO of Wag the Dog Publishers and founder of the MOST Awards.  "The digital revolution, or evolution, has had a profound effect on media agencies and media owners. From revenue models and the role of data to multi-platform, 24/7 content generation, ad-tech developments such as programmatic buying and trading desks, the media terrain is vastly different from when we founded the Awards 10 years ago.
"MOST not only celebrates the top players in our vibrant industry, but creates a benchmark from which industry players can continuously learn from each other, re-evaluate and improve their services."
Download your ticket application and submit your completed form online or download and email it to charleen@wagthedog.co.za.
What the industry has to say about MOST
"We have felt the impact of being part of The Most Awards in so many ways, it's so good one is tempted to not share it! If you are involved in our industry it's just a no brainer!" – Paul Middleton, Managing Director of Ebony & Ivory
"Being able to partner with The MOST Awards, has allowed Carat to build more effective relationships with the media owners, and have a better understanding on what they require from media agencies. Sandra and her team have done a phenomenal job in increasing awareness and understanding of the relationships between media owners and media agencies.  Here's to the next 10 years of the Most Awards." – Celia Collins, Managing Director Carat
"What excited me from the very start, when Sandra Gordon pitched the idea for the MOST Awards, was that it provided an opportunity to benchmark the industry. Being the first award of its kind it caught our attention because it could really add to the betterment of entire industry. We continue to sponsor the awards because they continue to grow and improve every year. It's about getting back [information] and getting better." – Ané Honnibal, General Manager Ads24
A variety of sponsorship packages are still available for this year's MOST. Sponsorship of specific awards can be packaged to include online advertising before, during and after the event plus fun, creative and enduring activations at the awards.  The big bar and food area is still up for sponsorship as are activations such as photo booths and pop-up bars, bags, goodie bag items, branded waiter bibs and name badges.
If there's something you'd like to sponsor that doesn't appear on the list, feel free to let us know. We are open to innovative, fun suggestions.
For more information or to sponsor the MOST Awards 2018 please contact Sandra Gordon on sgordon@stonesoup.co.za or Melanie Warricker on 072 480 6123 or melanie@ifeelgood.co.za.
To vote for the 2018 MOST Awards, click here.