by Hellocomputer Cape Town Managing Director, Robyn Campbell
Did you know that there are more CEOs called 'John' on America's Highest Paid 100 CEO list than there are women? And locally, there are more people called 'Stephen' than there are women on the country's Top 50 Richest CEOs list? In fact, there is only one woman on that list, Magda Wierzycka, but don't worry, we have three Stephens.
In terms of landing top leadership positions both locally and globally, women don't seem to be doing that well in that most of the positions of power and prestige are occupied by men. This is especially sad considering that 52% of the world's population is female.
Also sad is this pretty dismal paper published in Psychological Science by the CEO of the South African Institution of Civil Engineering, Manglin Pillay. Pillay wrote: "The fact that more men occupy high profile executive posts is tremendous not because of gender, but because of appetite for work load and extreme performance requirements at that level, choosing what is important and where to allocate time.
"The reason why women do not occupy these positions is that women choose to have the flexibility to dedicate themselves to more important enterprises like family and raising of children than to be at the beck and call of shareholders who will wake you up in the middle of the night to attend to shareholder aspirations."
In my opinion, it's absolutely shocking that there is an expectation to choose between children or chasing a senior career. We have lot of work to do if we are to change mindsets like the one on show in Psychological Science.
Equality is so much more than just hiring women so that the company can say it employs an equal number of men and women. It isn't as simple as giving 'like for like'. Consider bathroom designs. Women take on average twice as long as men in the bathroom, but rarely is this taken into account in the planning when building, so, we wait and wait in queues. Ladies, that's straight up sexism.
It goes without saying that women play a vital role in the marketing and advertising arena, globally and in South Africa. In terms of pure economic power, women make up at least 65% of the global spending. Therefore, by having women participate in the ideation of marketing campaigns, the industry is ensuring that the work it produces for its clients converts and delivers a more layered and authentic messaging.
When it comes to women in management positions in the industry, they have more often than not experienced a struggle in working their way to the top through a very loud and impetuous industry. However, we are seeing a change in the ways departments are being run, with a focus on equal opportunity, fairness and a drive to make the industry more accessible to mothers or employees with personal circumstances that need support.
Our goal across the FCB Africa group is to create a more accessible, modern environment and having ambitious women be part of driving this agenda ensures that all our internal initiatives are inclusive to all, along with being credible and driving true industry change.
I set about calculating what FCB Africa can boast about in terms of recognising women and employing them in positions where they can contribute to the agency's success, its clients' success and influence society as a whole.
In the Mother City, in addition to all the great ladies working on the campus, the Group Financial Director for FCB Cape Town, Hellocomputer Cape Town and Hellocomputer Joburg is female; the managing director at Hellocomputer Cape Town is female; the managing partner at FCB Cape Town is female; and both of the two creative directors at Hellocomputer Cape Town are female.
At FCB Joburg, we've recently appointed two female business unit directors and two female executive creative directors. Two of two executive producers at Fuel are female; and Hellocomputer Joburg, Hellocomputer Cape Town, FCB Cape Town and 1886 employ 13 female heads of department between them. On a group level, our Chief Strategy Officer, our Chief Human Resources Officer, our Chief Account Leadership Officer and our General Manager of Learning and Development are female.
More importantly, at a group exco level where we've been most under-represented, we've moved from 7% to 24% female representation in the last three years. Of course, there's more to be done but, on a positive note, it is streets ahead of South Africa's Top 40 listed companies with only one woman represented at the very top level.
While these are figures we can be proud of, we realise that we need to improve, and to improve we need to continually discuss and address many issues that raise themselves on an almost daily basis.
Bias, for example, is one such issue. Something that surprises women is their own internal bias, based on how we have been raised and moulded, particularly in a patriarchal society like South Africa. We all have varying levels of bias about not wanting to hire someone who is married, pregnant, has children or believes that men have a better leadership style.
Lack of support for fellow women is another issue. Society has raised us to compete. We raise girls to see each other as competitors—not for jobs or accomplishments —but on a personal level. For instance, what clothing she wears, how she looks and other nasty gossip. In a time that we need each other's support more than ever, we drag each other down, reinforcing men's inherent bias that women aren't natural leaders and focus on petty, shallow issues that stand in the way for excellent work.
I challenge every woman in the industry – and at FCB – to review how you approach your job, your seniors, your juniors and yourself. We have made such headway, our mothers and grandmothers fought for this, we need to be part of continuing the change our society needs for us to all flourish in this industry and to pave the way for more women leaders.
With that in mind and given that many of the young women (increasingly) employed in the group agencies have been inspired by strong women, I asked a handful of them to share. It makes for inspiring reading.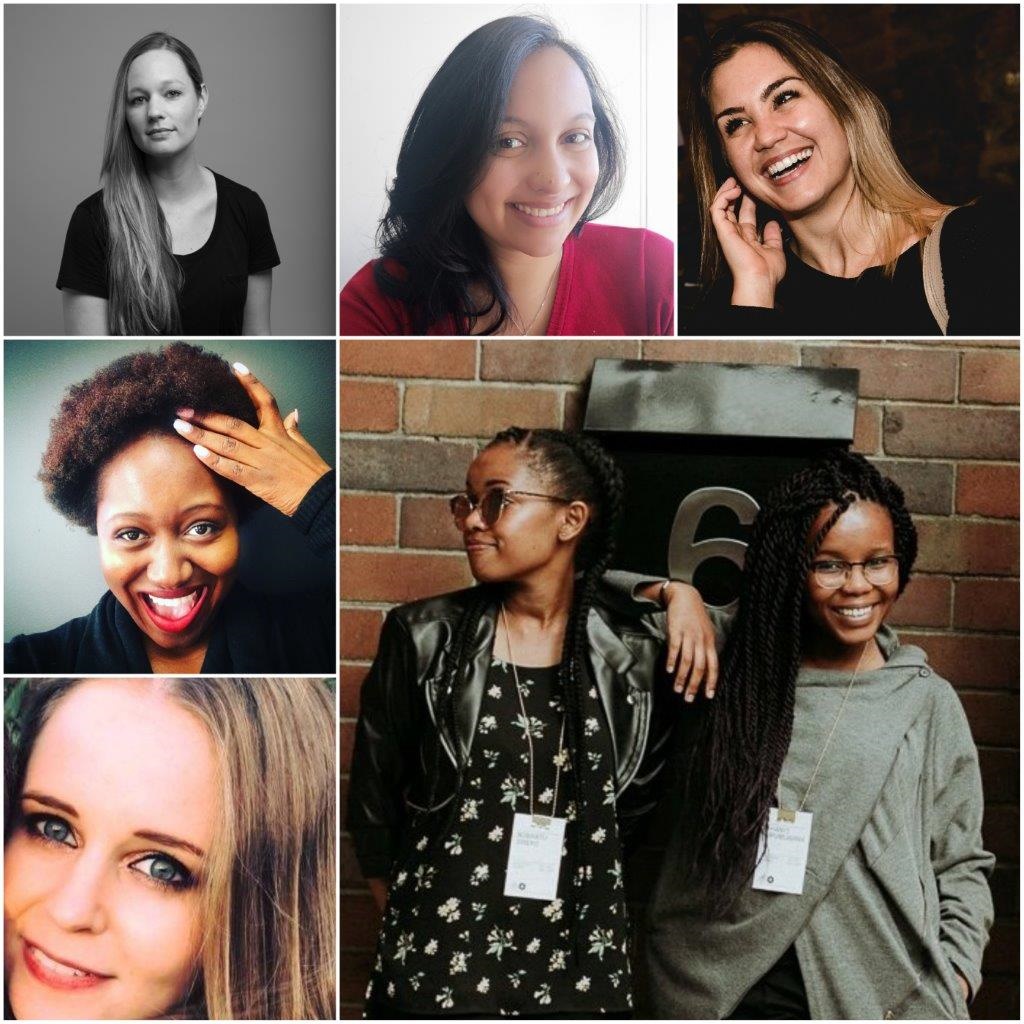 Hellocomputer Johannesburg Senior Copywriter, Lucy Holford-Walker
"My grandmother was a powerhouse. While she was no advertising guru, she instilled in me what it is and what it means to take to anything in full force, and with the confidence to succeed. She taught me that my womanhood is my strength, and this has and continues to shape my approach to work, and my life in all aspects. She was a Wren in the Second World War; a decoder for the Allies, working in a time of immense pressure and uncertainty, alongside many other resilient women. She was also a writer; a wordy human like myself, with an intense love for puzzles and problem solving. Every decision I have made up to this point in my life has been with the knowledge that as a woman, I am capable beyond measure. And I can thank my grandmother for this, as well as the women I am fortunate to learn from and work alongside, every day. As a woman in advertising, I certainly look forward to what's to come. And it's nothing short of exciting!"
Hellocomputer Johannesburg User Experience Strategist, Kefiloe Mokate
"One of the many women who inspire me is Malala Yousafzai, who the youngest Nobel Prize laureate and a Pakistani activist for female education. At age 15 the Taliban shot her in the head for speaking out publicly on behalf of girls, and she survived. She is now 21 and is currently studying Philosophy, Politics and Economics, and every day she fights to ensure all girls receive free, safe, quality education as well as travelling to different countries to meet girls fighting poverty, wars, child marriage and gender discrimination to make sure that their stories are heard. This young world leader for me epitomises the beautiful power and perseverance of everyday woman from all walks of live. She has inspired the decisions I have made to get involved in volunteer work for issues close to my heart such as mental health, as well push the boundaries in my work. I have realised the importance of my voice, not only tell my story but be true to what I believe in and realise that one voice can become very powerful."
FCB Joburg Art Director, Nobantu Sibeko
"My heroines are Olivia Pope and Elizabeth Sloane. Both fictional characters who have taught me that we have to create the women we want to be, because those women don't exist. When I started in advertising, I didn't see other black women in leadership positions, so I looked to television and the movies and watched women who crafted their positions of power in industries built by men, to win. Shonda Rhimes, the creator of Olivia Pope, is a woman that has inspired me to continue on my career path, and create doors where there aren't any. Already as a black person in this industry, you're fighting institutionalised racism. As a black woman, you're not only fighting that, but fighting misogyny and sexism in all its ugly forms… And you have to take a stand against those things, even if it means risking your career."
FCB Joburg Copywriter Khanyi Mpumlwana
"They say 'never meet your heroes'. In my life, I've made it a point to avoid 'heroes' at all costs. There is a myriad of women I've met who've inspired me to do better and be better at every single step of my journey. And I meet them every day. The black women in this industry (whether they know it or not) are all part of a club with a strong, definitive ethos: 'Unapologetically excellent'. This is a burden I've witnessed them carry with an admirable and unnecessary grace; holding their tongues in boardrooms and judging rooms because they know exactly which battles to fight and when. Because we don't get to be mediocre. We don't get to breeze through our professions like our counterparts. They know that. I know that. And we consistently push ourselves and challenge this industry so that the black women that come after us won't have to. Those are the women that drive me. They know who they are. The 8 CD/ECD black women. The minority Junior/Senior black women who sit in their creative departments and hold the responsibility of representing a market majority black women who sit in their homes and carry the same burden of excellence. So, in short, I don't have heroes. Only comrades in a battle that's yet to be won."
Hellocomputer Joburg Digital Senior Account Manager, April Beard:
"My Head of Operations, Shika Sukdeo astounds me every day with her wealth of knowledge, tenacity, courage and the grace with which she carries her position. No matter how busy, or how impossible the task, she has the super powers to make it happen. I have never met a woman who can crack the whip that hard, and express care and concern at the same time. Most importantly, she demonstrates that women can lift each other up, in this industry. She inspires me to find my own strength and fight my daily fight. Mentoring and teaching is her mother tongue, and I am a better person, and account director, because of her."
Hellocomputer Cape Town Account Director, Genevieve Ferraris
"My mom somehow found a way to simultaneously raise two daughters, be a wife, maintain friendships, and run both a company and a household – when I look back now, I seriously wonder how she managed it all. She contributed to my career path by always encouraging me to try new things, explore new paths and find things that make me happy. I was adamant that I wanted to work in finance, she (and my incredible dad) played along, allowed me the privilege of being able to do my degree and then gently encouraged me to pursue advertising as a post grad. Once I found advertising I, was very fortunate to stumble into Hellocomputer and found myself interviewed by Robyn Campbell – another inspiring woman. She must have seen something in me, as she took me on with no experience in the role. Since then, I have been incredibly lucky to have had many successful and strong women within the agency mentor and shape me in this sometimes treacherous industry."