Dis-Chem Pharmacies have partnered with in-store advertising innovators Smart Media to provide its stores with an integrated advertising experience that enriches the customer journey. This unique in-store media mix places the shopper top of mind and is designed to convert branding into retail sales.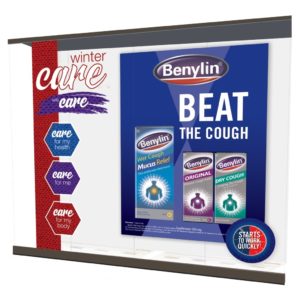 "We want to help Dis-Chem create a world-class experience for customers from the moment they enter the store all the way through to the point-of-sale. With so many touch-points available to Dis-Chem, Smart Media is enabling them to introduce innovative technologies that position products in a fresh and exciting new light," says Mark Uria, CEO of Smart Media.
He believes that the 360-degree integrated in-store advertising solutions Smart Media is providing to Dis-Chem perfectly enhances the traditional media currently in use. Even more so, these innovations uplift the quality, aesthetics, and consistency of visuals used in-store.
The journey starts with co-branded Smart Windows outside the store. With thousands of South Africans passing shop front windows every month, these tailored displays can position brands and products in exciting ways during peak promotional periods. Using creative designs and customised environments such as layered 3D backgrounds, brands can establish an immediate, intense brand presence even before a customer enters the store.
Upon entering a Dis-Chem store, customers pass by security barrier sleeves, also known as 'Beepa Sleeves'. These provide highly sought-after opportunities that generate significant sales and can be customised according to the campaign messaging of any brand. As this is the entry and departure point of all stores, it has tremendous footfall and public presence.
Furthermore, Smart Media provides unique ways to brand moving media such as baskets and trolleys which provide brand-in-the-hand intimacy travelling throughout the store with the shopper. The journey continues with the use of high impact Dispensary posters that provide prime positioning at Dis-Chem stores nationwide and are our most popular medium.
"With more than a million customers waiting on average 12 minutes to be served at a Dis-Chem dispensary, we deliver a highly impactful poster display with many units illuminated from behind to give high brand impact during focused customer dwell time," says Uria.
Building from there, Over The Counter (OTC) queuing rail posters supplement the displays at the dispensary with invaluable space that creates top-of-mind awareness for both the customer and pharmacist. The customer journey then concludes at point of purchase with till point signage. These prime spaces are ideal for reward programmes, third-party partnerships, promotions, and other relevant campaigns. Using Smart Media solutions, Dis-Chem and its partners are able to communicate directly to consumers at a critical time when they have their wallets in hand.
"Smart Media is focused on creating new ways of engaging with shoppers and converting products on shelves into sales. All our solutions are designed to build engagement and product recall, offering Dis-Chem customers a unique experience that increases excitement and spend. We're currently piloting new digital opportunties and are already getting positive feedback from customers," concludes Uria.
For more information, please visit www.smartmedia.co.za or contact bookings@smartmedia.co.za.