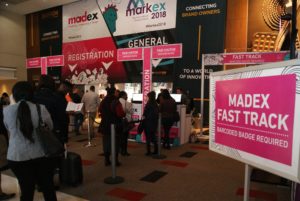 Going green is one of the major trends that marketers are seeing in the retail space, and part of a changing marketing landscape. This is according to Chantelle Booysen-Fourie, portfolio manager: communications, events and strategic partnerships at the Marketing Association of South Africa (MASA). Booysen-Fourie was speaking on the opening day of Madex and Markex 2018, co-located at Sandton Convention Centre on the 5th and 6th of June.
Booysen-Fourie was presenting on '2018 explosive marketing trends: goals poised for greater heights'. She says, "We need to keep abreast of trends because as marketers, we must know in advance what to cater for. Right now, we are working in a changing marketing landscape that is affected by such factors as political, economic, technological, legal and environmental issues that must be taken into account.
"For example, earlier this week, Woolworths announced that it is planning to phase out the unnecessary use of single-use plastics by 2020, and has also committed to its packaging being either reusable or recyclable by 2022. This is an important message for the retail sector and consistent with a number of critical trends that are currently being predicted for marketers."
Booysen-Fourie said it has been a challenging period over the past five years or so from a cash-ready perspective, with most consumers having a lot less ready spend available. "The role of a marketer has changed in the past 20 years and our jobs are transforming in parallel. In some business areas, the marketing discipline and sponsorship profiles are being merged, with marketers increasingly being expected to sell, a definite change from the past. As marketers today, we have to do a lot more with a lot less money, and we need a varied skills set, including a proficiency for maths and finances."
She explained that marketers are required to address different issues for their brands in order to capture attention. "Your industry – for example auditing, motor vehicles or property – will dictate which trends are important to your brand, but many brands also now operate across multiple industries, and this makes your job more challenging. We need to think about the macro environment that we exist within, and the wider issues that affect all brands.
"There are also legal factors that must be taken into account: it's critical for you to know the legal framework of operations for your marketing arena. Current legal issues to take note of include the pending Protection of Personal Information Act (POPIA), as well as the General Data Protection Regulation (GDPR) in the European Union, which came into effect in late May and affects all companies globally that do business with any firm in the EU, as regards the handling of data. Additionally, marketers' voices are also going to be incorporated into the King IV Report on Corporate Governance, and here we will need to show more responsibility around the principles outlined in the report."
Booysen-Fourie said recent marketing trends that can be seen in the retail space include:
An increase in no-name and other private brands, reflecting a gearing towards consumers who are feeling the pinch financially;
An improvement in collection and delivery points, showing an acknowledgement of petrol increases and the fact that all brands need to deal with the cost repercussions;
More next-generation stores with unique technology;
Going green;
An increased focus on giving back to local communities; and
A greater increase in ethical trading.
Nick Sarnadas, Portfolio Director at Madex/Markex 2018 organiser, Specialised Exhibitions Montgomery, notes that taking cognisance of trends is a vital part of the content that is on offer at Madex 2018.
He says: "The inaugural Madex show took place last year, when we realised the huge demand for exceptional content in the marketing space at an event like this. Accordingly, we put together two seminar theatres: The Fundamentals, which caters for the relative newcomer to the marketing arena, and The Academy, which appeals to the more experienced marketer. Last year's attendance during these sessions was exceptional and this year has followed suit."
For more information, visit www.madex.co.za, or contact Specialised Exhibitions Montgomery on info@madex.co.za.