Eat Out, SA's best guide to SA's best food, officially launches its new app on Monday. Owned by New Media, the Eat Out app represents the company's largest investment in technology to date.
The free app provides consumers with access to South Africa's largest directory of restaurants to browse, review and book, and is now available via the Apple App Store and the Google Play Store. Alongside the app, Eat Out has built a bookings platform, designed with the needs of local restaurants in mind.
Aileen Lamb, Managing Director of New Media, explains why the app is a game-changer for the 20-year-old brand: "As the biggest restaurant listings site in the country, this was an opportunity to guide our audience along every step of the eating out process. It is a tool that South Africa needed and, as such a defining brand in the restaurant industry, Eat Out had to fill this gap. By putting the ability to make bookings straight into our users' hands, we hope to make this process smoother and less stressful than ever before. We couldn't just stop there, though. The bookings platform was equally important to us in order to fully close the loop. Whether you're an award-winning fine dining establishment, a chain of family-friendly restaurants or a country-style kitchen, the Eat Out app will help restaurants reach more diners and organise your bookings. In this way we're effortlessly connecting restaurants with diners, so the relationship may flourish."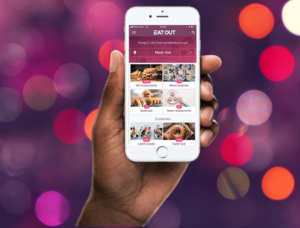 The Eat Out app means putting over 6 000 restaurants – South Africa's largest restaurant directory – right into the hands of potential diners. The app finds restaurants nearby using geo-location technology, plus it allows users to bookmark restaurants, view a vast number of restaurant menus, view nearby specials, and share reservation details with dining companions.
The app and bookings system are a collaboration between Naspers and New Media, a division of Media24, a Naspers subsidiary. It was developed by a team of senior software developers at Naspers led by Product Specialist Evan Person.
Evan is a 20-year veteran of the software development industry and has held product roles for software start-ups and corporates in South Africa, the US and the UK in the legal, property, online project collaboration and analytics domains. He describes the app's innovative features: "The app has been developed to recommend restaurants nearby and also enables users to book restaurants using Eat Out's new online booking system. This will fulfil the user journey and is the first of several new features we will be bringing to the food space in South Africa."
The team created the bespoke restaurant bookings platform by actively engaging with restaurants to identify their needs. There are two modes available for restaurants: Lite and Pro. Lite allows restaurants to take bookings on request and can be used in conjunction with any other booking system. Pro makes instant bookings possible via the Eat Out app. It enables restaurants to streamline all reservations, set up sittings, configure tables, and send notifications to members of staff.
The Eat Out app is free and available for iPhone and Android. Download it now from the Apple App Store and the Google Play Store. Restaurants can find out more on www.eatout.co.za/app/. In order to activate bookings, restaurant owners or managers can claim their listings by visiting restaurants.eatout.co.za