As South Africans continue digesting the unwelcome news of the country's gross domestic product (GDP) reduction of 2.2 percentage points in Q1 of 2018 – the worst quarterly contraction in nine years – the marketing profession is evaluating its ongoing quest to showcase the value it can bring to business.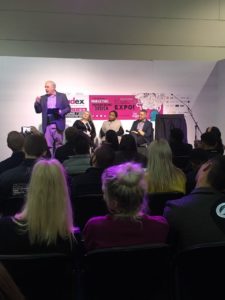 Speaking during a panel discussion at Markex 2018, Africa's premier promotional products expo, Mike Salomon, commercial director of corporate and promotional products company Barron, said that while these latest GDP statistics are sobering, the reality is that South Africa marketers have not been operating in a buoyant economy for some years, and understand the need to look for value within a landscape of scarce resources.
He added, "At the same time, when we look at marketing internationally, there has been a general outperformance of marketing spend relative to GDP worldwide. We at Barron have seen excellent growth over the past few years, and I believe this showcases the role that promotional items can play in a company's marketing plans."
Salomon's fellow panellists included Leatitia van Straten, marketing director of Specialised Exhibitions Montgomery, the event organisers; and Tlalane Ntuli, cofounder and COO of life insurance provider Yalu. The panel was hosted by journalist, radio host and television presenter Jeremy Maggs.
Ntuli added, "Marketers are always having to deal with budgets cut and we are therefore familiar with the challenges in remaining relevant. We need to sit around the boardroom table to be better able to showcase the value that we can bring to an organisation. We must think beyond the boundaries of what we believe marketing to be, and be able to provide integrated solutions in which all aspects of the marketing plan have a role to play in the return on investment.
"In finding solutions outside traditional marketing, promotional items start to come to the fore. They represent a good way of driving brand visibility and recognition. We need to remember that consumers respond to brands they know, including items they have access to in their own communities, and not just adverts."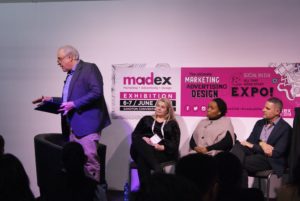 "In tough economic times, when you are pushed to save money you have to get smarter," stated Van Straten. "Companies should look at all the channels they use as part of a holistic, integrated campaign. Promotional items should not be regarded as just a freebie that you give to your customers."
Salomon added, "Be clear on your messaging – identify your touch points and then exploit them as efficiently as possible to engage your audience. Identify your target market to make your offerings as tailored as possible. Personalisation is becoming critical."
Ntuli endorsed this, saying, "You might well find that a simple item could become your most creative option, and so simplicity around promotional items is key. When budgets are low, this should incentivise creativity, providing marketers with the opportunity to prove their value.
"There are many excellent promotional items available and digitalisation and marketing don't need to compete," Van Straten added. "Promotional items can complement your marketing strategy and they do have a role to play. They should be used wisely, however, and as part of an integrated, holistic marketing campaign."
Nick Sarnadas, Portfolio Director at Specialised Exhibitions Montgomery, concludes, "The content coming through from our experts showcases the necessary foundations and discussions required for today's digital and marketing industry. Marketing today is a vital part of the business world and, arguably, never more so than when economic times are tough. Keeping an open mind in your marketing plans and being aware of the need for holistic integration is critical for that the inevitable monetary bottom line."