Tiger Brands' 147-year-old flagship brand, Mrs Balls Chutney, has taken to the small screen to reinforce its stature within the category.
While South Africa's favourite chutney currently dominates consumers' pantries with almost 70% of the market by volume and 74% by value, (Source: Nielsen, MAT April 2018) the brief put to FCB Joburg's team of Creative Director Greg Cameron, Art Director Julie Thorogood and Copywriter Este de Beer by Marketing Director Edna Maphita was to relaunch Mrs Balls to gain penetration and grow brand love within the urban black market.
"Mrs Balls is one of those condiments that has you swooning after your first taste," she said. "Extremely versatile whether you add it as an ingredient or pour it over your favourite dish, you fall in love with it over and over and over again."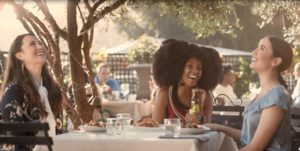 The agency's solution is a 30-second television commercial currently flighting on SABC, ETV and DSTV channels. It shows how close the relationship is between Mrs Balls and South Africans from all walks of life, as 'The Mrs.' turns the moments and meals you like into those you love.
It was directed by Mzi Khumalo of Darling films with editing and post-production by Upstairs Ludus and Fuel Content, and features the 1972 R&B hit by Billy Paul, 'Me and Mrs Jones'.
 Credits:
Client: Tiger Brands
Brand: Mrs Balls
Marketing Director: Edna Maphita
Marketing Manager: Deeolan Govender
Brand Manager: Vuvu Mbikwana
Creative agency: FCB Joburg
Business Unit Director: Mogani Naidoo
Account Director: Bronwyn Simons
Account Executive: Kaylyn Naicker
Chief Creative Officer: Ahmed Tilly
Creative Director: Greg Cameron
Copywriter: Este De Beer
Art Director: Julie Thorogood
Traffic Manager: Theresa Selema
Strategic planner: Sihle Dlamini & Sandiselwe Gamede
TV production: Iolanthe Grobler
Media planners: Andrea Snaddon & Ronel Pote – The Media Shop
Production companies: Darling Films
Directors: Mzi Khumalo
Editor: Upstairs Ludus and Fuel Content
Post-production: Fuel Content