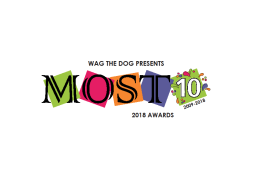 The continued success of the MOST Awards, is thanks in large to the loyal support of its sponsors. It is with this in mind that MOST is delighted to announce that four more important sponsorships have been snapped up for the MOST Awards 10th annual celebration, which will be held on 13 September 2018 at The Wanderers Club in Illovo, Johannesburg.
Guests can expect unique, bespoke experiences hosted by innovative sponsors, including TransAfrica Radio which will sponsor the Media Agency Africa Award and will once again be treating guests to 100% African sounds in the Chill Zone; Hitch Digital are the proud sponsors of the Media Owner Digital Award and a new sponsor Taxi Times has snapped up the Media Agency Full Service Award. Now in its third year of sponsorship, KayaFM, has upped the ante and will be sponsoring the Media Agency Specialist Award as well as the registration and foyer areas and welcome drinks.
"We have chosen to sponsor the MOST awards to show our support for our industry.  MOST Awards is a valuable event that recognises all in the media and we support and appreciate their efforts. Great media partnerships are essential to do great work for our clients. We want to celebrate media owners and show our gratitude for their tireless efforts," said Leigh Hitch, CEO, Hitch Digital Media.
Sandra Gordon, founder of the MOST Awards and CEO of Wag the Dog Publishers said, "The continued participation from our loyal sponsors makes the MOST Awards what it is, a highly respected benchmark that facilitates the maintenance of exceptional standards in our industry.  We are delighted to see Kaya upping their support this year and to welcome Taxi Times and Hitch Digital to our list of loyal supporters."
A variety of sponsorship packages are still available, including:
Media Owner Individual Sales Consultant
Media Owner Lamb
Media Owner Africa
Media Agency of the Year
The Bell Award
Sponsorship of specific awards can be packaged to include online advertising before, during and after the event plus fun, creative and enduring activations at the awards.  The big bar and food area is still up for sponsorship as are activations such as photo booths and pop-up bars, bags, goodie bag items, branded waiter bibs and name badges.
If there's something you'd like to sponsor that doesn't appear on the list, feel free to let us know. We are open to innovative, fun suggestions.
For more information or to sponsor the MOST Awards 2018 please contact Sandra Gordon on sgordon@stonesoup.co.za or Melanie Warricker on 072 480 6123 or melanie@ifeelgood.co.za.
To vote for the 2018 MOST Awards, click here.