Tribeca Public Relations (Tribeca) has secured a Broad-Based Black Economic Empowerment (B-BBEE) Level 1 status in its 2018 B-BBEE verification audit carried out by Platinum Verifications, a SANAS accredited B-BBEE verification agency.
The B-BBEE verification process was based on the Marketing, Advertising and Communication (MAC) Sector Code, which defines Tribeca as a Large Entity due to its annual turnover being above R10 million.
The Level 1 status will afford Tribeca a B-BBEE procurement recognition level of 135%, enabling the agency to be retained by organisations that place a priority on achieving high procurement recognition levels in compliance with the Broad-Based Black Economic Empowerment Amendment Act of 2013.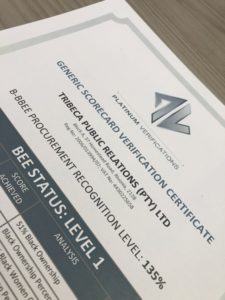 "Tribeca's approach to transformation and empowerment embodies our values, our ethos and our business philosophy," says Tribeca director Cian Mac Eochaidh.
"We believe that contribution is more important than compliance and we place people and relationships at the forefront of everything we do. While yielding short term gains, a compliance approach to B-BBEE is not sustainable if it is divorced from a company's core purpose and principles," he continues.
As a fundamental part of its transformation and empowerment strategy, Tribeca places a central emphasis on the role of entrepreneurship in addressing the challenges of unemployment, inequality and economic growth in South Africa.
"Tribeca believes in the need for urgent transformation of the South African economy to ensure that it grows in a sustainable and balanced way. We believe that an economy that is healthy, vibrant and inclusive is good for business," says Mac Eochaidh.
To this extent, Tribeca's commitment to empowerment includes a partnership with the Itirele Foundation Charitable Trust (Itirele) – an independent trust with the sole focus of igniting a culture of black female entrepreneurship in South Africa.
Itirele owns 18% of the issued shares of Tribeca Public Relations (Pty) Ltd unencumbered and applies the dividend income received from this shareholding to support the growth of small and medium enterprises, develop entrepreneurial role models, and stimulate and reward entrepreneurial innovation.
Tribeca's core focus on entrepreneurship in its B-BBEE strategy also influences its strategic approach to the other MAC Sector Code elements including: Enterprise and Supplier Development where it partners with black female owned enterprises and suppliers; Responsible Social Marketing and Communications where it partners with Junior Achievement South Africa; and its Skills Development strategy which heavily focuses on black female individuals both within and outside its business.
"We are committed to empowerment and to our relationships with our employees, clients, partners and suppliers, and we are proud to have secured a level 1 B-BBEE status – not by chasing after compliance, but by embracing the ethos and intent of B-BBEE," Mac Eochaidh concluded.
Tribeca is an independent South African public relations agency and has accepted PRISM awards for excellence in PR services every year that it has been in business – including Best Mid-Sized Public Relations Agency, South African Campaign of the Year, and 12 Gold awards for client campaigns.