FCB Joburg's television commercial launching Toyota South Africa's new compact SUV is a 'total rush', pun intended.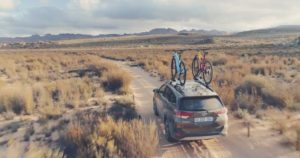 Dubbed 'Rush Squad', the TVC was created by Creative Director Tian van den Heever, Art Directors Georja Romano & Fezi Mpembe and Copywriters Tracy-Lynn King & Nhlanhla Ngcobo off a brief put together by Toyota SA's Senior Manager of Marketing & Advertising, Tasneem Lorgat, and her team.
"The new Toyota Rush, which debuts into the highly competitive SUV market, targets young, aspirational South Africans aged between 25 and 34, who love adventure and travel," she said.
"The new Toyota Rush has a lot going for it – a great price, impressive specifications and a host of desirable features such as its generous space (609L luggage capacity), high ground clearance, touch-screen multimedia system, and 17" alloy wheels, to name a few. But more importantly, it makes road-tripping anywhere, easy.
"The focus on travel is really quite important for us. It is fast becoming the new social currency – with many people even choosing their travel destinations based on how Instagrammable it is. The question we posed to FCB Joburg was 'Can an entry level SUV improve your social standing through travel?'"
The agency's response was 'Of course it can'. And a travel-inspired story featuring five friends and the journey they take in their new Toyota Rush ensued. The twist is noted in the ad's tongue-in-cheek rap parody soundtrack that takes typical hip-hop cues generally associated with success or flash and overlays them with travel experiences.
"There is an interesting thing that happens when people travel, jokes like 'somebody's doing well' or 'look who's living the life' pop up in conversation between friends and colleagues – and that's exactly what we wanted to tap into here. Travel makes a lifestyle statement and the new Toyota Rush has the ability to reward the target market with travel-level status," said van den Heever.
"Travel gets you out of all the usual the spaces where everyone else is — and that in itself raises the bar on the type of life you're living and puts you on a new level. As an entry level SUV packed full of all the features you need to go where sedans and hatchbacks can't — we're really selling access to travel and the lifestyle status that brings."
Shot by Robin Goode Figment Films over four days in the Tankwa National Park and the Cederberg, the ad is scheduled to flight for three months from the first week of July. It is supported by cinema, social media, digital media, radio, print and outdoor.
Credits:
Creative agency: FCB Johannesburg
Client: Toyota South Africa
Executive Business Unit Director: Reagen Kok
Account Director: Nicole Malan
Executive creative director: Brett Morris
Brand Manager: Zhandre Brandt
Senior Manager: Advertising & Digital Marketing: Tasneem Lorgat
Creative Director: Tian Van Den Heever
Creative Director Print: Janine Kleinschmidt
Copywriters:  Tracy-Lynn King and Nhlanhla Ngcobo
Art Directors:  Georja Romano & Fezi Mpembe
Content Writer: Lucy Holford-Walker
Strategic planner:  Stuart Sims
Media Strategist: Langelihle Sithole & Gwen Bezuidenhout
TV Producer: Nakita Bolus
Production house: Figment Films
Director: Robin Goode
Post-production: Left Post Production
Music Composition: Simon from Say Thank You Music