South Africa's leading quick service restaurant in the pizza segment and FCB Joburg 'went big' in Debonairs Pizza's latest television commercial with outsized locations and props to show why, when you have a taste for big things, the Big Nyana will more than make the grade.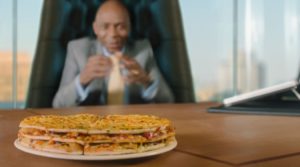 The point behind the big house, the big car, the big office – as well as a few other oversized items viewers will pick up on – was to drive home the fact that Debonairs Pizza's Small Triple-Decker® is for people who have a taste for big things. In other words, it's a pizza sized for one, but with a big personality.
"While it is a smaller version of the original Triple-Decker®, it still boasts triple the taste, triple the flavour and triple the fun.  It's a super filling meal you can enjoy by yourself; ideal for people with a big appetite and a taste for big things," explained Debonairs Pizza Marketing Executive, Toni Joubert.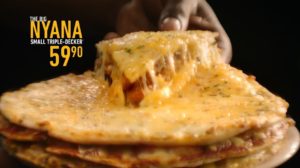 The Big Nyana was created by FCB Joburg Art Director, Vukani Mpanza & Jacque Moodley, and Copywriter, Lucky Kakudi & Sandile Hamilton, together with Creative Director, Greg Cameron with Mfundo Mkhize of Ola Films and Ian Difford of Hungry Films. Post production was by Tessa Ford Post Production, Orchestra Blue Post Production and Fuel Content. A 30-second commercial with a 20-second cut-down, it is flighting on SABC, ETV, DSTV channels as well as MNET and Comedy Central.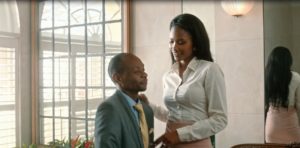 "The word 'nyana' means 'small' in Northern and Southern SeSotho and, South Africa being the melting pot that it is, its lingo has been adopted by other cultures so that its use and comprehension is fully and universally understood," explained Cameron.
"So, the literal translation for the Big Nyana is 'a big small thing'. And it works, because it's a witty oxymoron that completely represents the Small Triple-Decker's personality."
Credits:
Creative agency: FCB
Business Unit Director: Mogani Naidoo
Account Director: Kefilwe Khanda
Account Executive: Kaylyn Naicker
Chief Creative Officer: Ahmed Tilly
Creative Director: Greg Cameron
Copywriter: Lucky Kakudi & Sandile Hamilton
Art director: Vukani Mpanza & Jacque Moodley
Traffic Manager: Theresa Selema
Strategic planner: Sandiselwe Gamede & Katherine Anousakis
TV production: Linda Hauser
Media planners: Jedd Cokayne & Sulize Janse Van Vuuren- The Media Shop
Production companies: Ola Films and Hungry Films
Directors: Mfundo Mkhize; Ian Difford
Editor: Tessa Ford and Orchestra Blue Post Production
Post-production: Tessa Ford Post Production and Fuel Content