The Fak'ugesi African Digital Innovation Festival enters its final and closing week from 24th – 29th September with a special focus on gaming and beats. With the theme of "Tap Your Afro Source Code", this year celebrates technology, creativity and innovation from across the African continent.
Dr Tegan Bristow, Fak'ugesi African Digital Innovation Festival director, says that the theme centres on African visions of technology by tapping into the sources of African tradition and culture alongside technology, creativity and innovation: "This year we are exploring how local culture can move and change the future of technology. How would you understand and unpack the source code of your African identity?"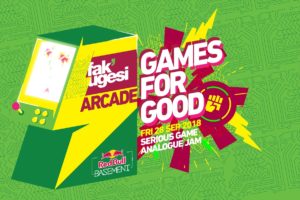 In its final week, the Fak'ugesi African Digital Innovation Festival explores music culture via the annual Beats Programme curated by WeHeartBeat, which will descend on the Tshimologong Precinct with a six-day takeover of Braamfontein's tech hub. The program comprising of workshops, experiences and performances, facilitates the meeting of mind and spirit in an environment geared around the festival's theme, "Tap Your Afro Source Code".
The Fak'ugesi Beats Lab, running from the 24th to the 28th of September will host international electronic artists and explore the connection between music, technology and culture with local and international artists. The outcome from these sessions will result in an EP release, a short documentary and a live showcase performance at the Fak'ugesi Beats Bloc Party on the 29th. The artists featured in the 2018 Beats Lab are S.Fidelity (Switzerland), Zikomo (USA), Morena Leraba (Lesotho) and South African artists Bonj Mpanza  and Hlasko.
In partnership with Ballantines Whisky and Business Arts South Africa, the programme includes panels on: 'The Future of Music' facilitated by Tefo Mohapi from iAfrikan.com and featuring guest panellists Riky Rick and Thibaut Mullings; 'Managing Health Amongst Creatives' featuring psychologist Thembi Mashigo and panel guests Ayanda Seoka, Mx Blouse and more. The day will include a Masterclass with Black Milk (USA), The Art of Remixing with Zikomo(USA) and close with a 'Power of Collaborations' session featuring Zikomo, S.Fidelity , Morena Leraba and Bonj Mpanza.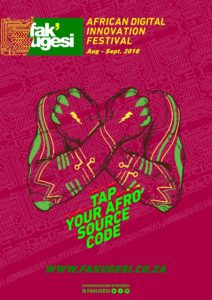 The last week of Fak'ugesi Festival also hosts a special session on the Future of African Gaming on the 28th and 29th of September. A full day on gaming, this will take place in collaboration with Red Bull Basement and focus on the theme of Tech for Good. The programme includes an Indie Games Arcade; a 'Games for Good' workshop focused games that address issues in South African urban environment.
The workshop will be followed by a "Futures and Networking" session, inviting the gaming community in the Southern Africa region to contribute to an understanding of what and how the Fak'ugesi Festival can develop and better support African games. This invitation comes after Fak'ugesi Festival in 2018 says farewell to A MAZE. / Johannesburg, which has supported its program since 2013 as the gaming partner.
A MAZE, under the leadership of its creative director, Thorsten S. Wiedemann, linked the Johannesburg gaming scene to an international network of indie developers for six years from 2012 until 2017. The two-way bridge between A MAZE. / Berlin and A MAZE. / Johannesburg inspired other projects like Super Friendship Arcade in Cape Town and Glitch Face in Johannesburg and was a huge impetus in the development of the Game Design programme in the Wits School of Arts. When the Fak'ugesi Festival was established in 2013, A MAZE fell under Fak'ugesi Festival support as the gaming partner. Weidemann added: "It's been amazing meeting, working and learning from the local and national game and playful media community.  We definitely made history together."
The week's activities culminate in a celebration at the Fak'ugesi Beats Bloc Party   on Saturday 29 September. This event will reignite the energy and spirit created at the inaugural party in a union of performance, music, technology and digital innovation. The Bloc Party aims to showcase the best in underground talent, both local and international – etching its name in the cultural textbooks as an inspiration to future generations of creators, producers and innovators. The second instalment of this ground-breaking event will host performances from the Beats Lab participants, as well as Black Milk and a strong local contingent including Langa Mavuso, Mx Blouse, Symatics + Ramz, and Micr.Pluto.
Tickets for Thursday 27 September are R50 per session and can be purchased via WeHeartBeat. There will be a limited run of R200 student tickets available for Fak'ugesi Beats Bloc Party, upon presentation of a valid student ID. Workshop and student tickets can be purchased throughout the week at the reception of the Tshimologong Precinct.