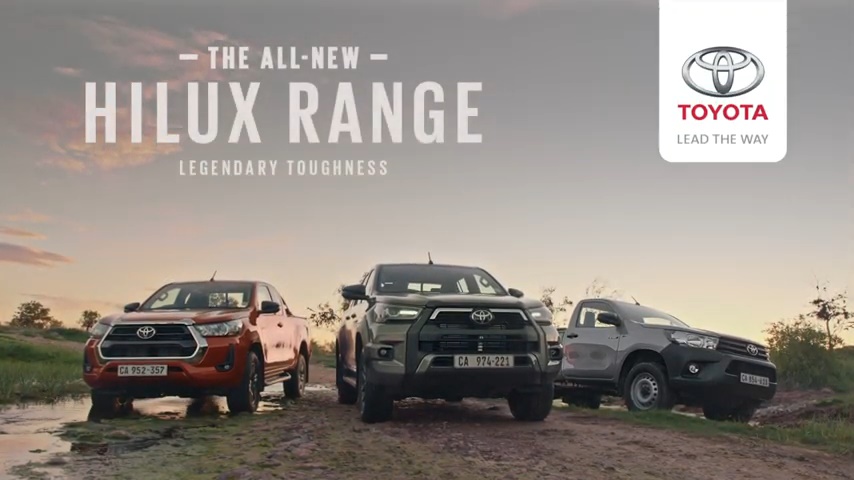 Coinciding with the unveiling of the 8th generation of its market-leading range of super tough bakkies, Toyota South Africa has evolved the Toyota Hilux's 'Tough, Tougher, Tougher-er' strategic positioning to claim 'Legendary Toughness'.
The Toyota Hilux debuted in South Africa in 1969 and, with its 2nd generation launching in 1973, quickly became the country's favourite bakkie outselling its competitors in the light commercial vehicle category in that year and every year since then with the exception of 1979, 1997 and 1998.
To date, over 1-million Toyota Hilux units have been sold; the resilience, reliability, confidence and patriotism the bakkie exudes resonating with South Africans whether they own a Toyota Hilux or aspire to own one.
Tasked to develop a brand campaign to hero the toughest range of bakkies on the market, FCB Joburg's creative team of Executive Creative Director Tian van den Heever, Creative Director Julie Thorogood, Art Director Kursten Meyer and Copywriter Verona Meyer, had several key goals to meet.
"This is the 8th generation of Hilux, and every year people expect more and more from this legendary bakkie with its with proven credentials. That's why Toyota keeps improving it year after year, so that every generation of Hilux is tougher than the last," explained Toyota SA's Senior Advertising Manager, Tasneem Lorgat.
"Not only did the Toyota marketing team want to celebrate and reinforce Toyota Hilux's legendary toughness, it wanted a campaign that communicated the increased power, improved styling, connectivity and new safety features of the diversified line-up.
"And, it wanted to achieve this in a distinctive manner that not only retained the brand loyalty of existing Toyota Hilux drivers, it attracted a new type of customer to the brand," she said.
Van den Heever, who has been working on the Toyota SA business at FCB Joburg for 10 years, explained the agency's thinking.
"We started with a question: 'The Toyota Hilux has a long-standing reputation for toughness, and each generation is made to be tougher-er than the preceding one. So, where do you go from tougher-er? The answer was 'Legendary Toughness'.
"And with this new positioning of Legendary Toughness, we took a hard, cold look at the lives we have led so far in 2020, it's been a time of unprecedented hardship and uncertainty for so many.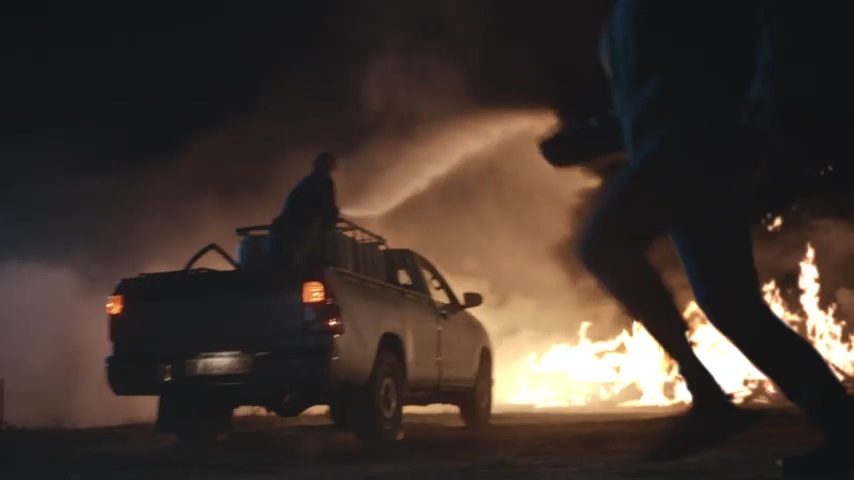 "That led to a second question: 'What would a leader do during this time? Because, in our opinion and that of over a million Toyota Hilux drivers, Toyota Hilux has the credibility to be a leader that rallies people during the tough times that we find ourselves living in.
"We therefore opted to use the launch of the 8th generation of the Toyota Hilux range to inspire and remind the nation that we are not easily beaten. That we will overcome. And that we are tougher than the times we find ourselves living in. We have, like the Toyota Hilux, Legendary Toughness."
The Toyota Hilux has always offered legendary functionality, power, styling, technology and safety. This campaign depicts the Toyota Hilux as unashamedly owning this legacy as it takes the consumer with it on a journey from toughness to legendary with human stories of legacy, endurance and resilience.
"This campaign truly reaches out to those who resonate with the brand," added Van den Heever. "It makes them feel 'My bakkie is an extension of my identity– it's as hard working, rugged and South African as I am. There's a legendary Hilux for me.'"
The TVC was shot in Cape Town over two days by Anton Visser of Patriot Films. The 360° through-the-line campaign includes above-the-line, digital and social, out-of-home, print and print collateral in dealerships. It broke in October.
Credits:
Client: Toyota SA
Brand: Toyota Hilux 8th Generation
Senior Advertising Manager, Toyota SA: Tasneem Lorgat
Advertising Manager, Toyota SA: Zhandre Brandt
Creative agency: FCB Joburg
Group Chief Executive: Brett Morris
Executive creative director: Tian van den Heever
Creative Director: Julie Thorogood
Business Unit Director: Struan De Bellelay-Bourquin
Copywriter: Verona Meyer
Art director: Kursten Meyer
Communication Strategic planner: Lara Chatzkelowitz
Digital Strategic planner: Langelihle Sithole
Project Manager: Shiraz Mckenzie
Account Lead: Sibusiso Zondo
TV Producer: Nakita Bolus
Production house: Patriot Films
Director: Anton Visser
Post-Production: Deliverance