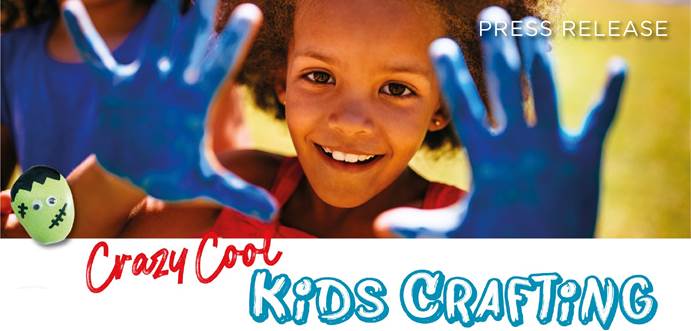 Rust-Oleum, the number one branded aerosol manufacturer in the world with a presence in 89 countries across six continents, was quick to recognise that it needed to create great content to remain top of mind during COVID, to keep sales up, and to help consumers ride out the lockdown. So it was that Crazy Cool Kid's Crafting was borne – a digital showcase of inspired, fun and absorbing DIY projects for kids. Each idea uses commonly found items at home – illustrating how to easily reuse and repurpose them with spray paint. From rocks, bottles and jars to tin cans – the projects are meant to get children to engage with their creative brain; allowing them to express themselves through art while also having fun.
Commenting on the launch of the free eBook, Rust-Oleum® marketing manager, Lani Carstens says that during lockdown children needed positive input in their lives and some happy distraction.
Download the ebook: https://we.tl/t-NX1y6dWbEt
"It would be irresponsible to think little people did not feel the effects of the lockdown this year and they too needed to keep their minds off what was going on. School and routines were disrupted and it was a strange time. They missed their 'normal' activities, parties and playdates. We hoped that our pages of inspiration would add some colour and joy to their day – and help parents keep their kids busy and that it did,"  adds Carstens. "It was so well received. Media particularly loved the campaign with a running total that's chasing R8.5million in editorial coverage to date. The social media campaign and blogger campaign are still in play but continue to gain traction."
From zombie pet rocks to stationery caddies and tin can lights – each project from yesteryear includes how to step by step instructions. Although simple in their execution – some ideas are more advanced and require adult input or at least some supervision.
"Several different images were included per project page. They are not meant to be prescriptive just a guideline; we hope our eBook will continue to spark creativity and stoke imaginations so they run wild," says Carstens. "The possibilities of spray paint are endless and we have an extensive range of colours and products for different substrates. You can quite literally reinvent anything in your home. We want children to reimagine and recreate with our paints so they can see colour in their lockdown world and beyond."
The 10 projects in this the first issue of Crazy Cool Kids Crafting, include:
Carnival Hit and Miss – using tin cans
Pen and Pencil Stationery Holders – using glass bottles, jars and tin cans
Magical Stone Magnets – using stones
Perfect Piggy Banks – using glass preserve jars and plastic bottles
Tin Can Stilts – using tin cans
Tin Can Lights – using tins cans
Pet Pocket Rocks – using stones
Stone Photo Holders – using stones
Pretty Pots – using cement, terracotta and plastic
Tic-Tac-Toe – using stones
"We are thrilled that South Africans are enjoying and taking pleasure in Crazy Cool Kids Crafting – activity that's not digital and keeps them off screens. Aside from keeping busy, it's a great opportunity to teach children about sustainability and the value of reusing and recycling. That and it's empowering to create something to play with that doesn't come out of a toyshop. 
Forget what it was and dream of what it could be…