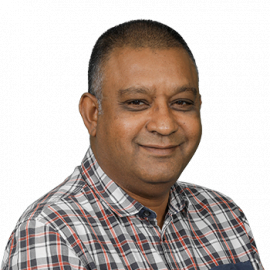 By Colin Ramparsadh, Business Unit Manager at The MediaShop
The very mention of influencer marketing conjures advertisers to think of celebrities purely on a micro and macro level. Using influencers in a campaign is an expensive exercise, not excluding the possibility of a celebrity being caught in a scandal and how it will negatively affect that brand.
But let's get back to some every day heroes – the Nano Influencers. Who are they? Nano Influencers are the everyday folk that make a difference to the lives of those around them. They are every day folk that do extraordinary things. They create real connections within their own circles and when they talk about brands it's from a place of trust. Their families and friends believe them. Yes, their reach is smaller than other influencers and if we were to get 50 Nano Influencers together the reach would be as tiny as the impact. But this category is not about how many followers they have but how many people they can directly influence.
However, like any advertising campaign, scale matters and if the reach is not significant the impact will not be realised. Hence, the posts and content created by the Nano influencer needs to be aggregated. What do we mean?
When purchasing an influencer marketing campaign, Nano Influencers create content that is posted across social media to their friends, colleagues and families. The advertiser then has the option to aggregate that content to a wider audience providing the campaign with real scale. The advantage is that the content is in the language and colloquialisms of the consumer and not scripted by the advertiser. Of course, brand guidelines would be provided to the influencer to ensure consistency and tone of the message.
Trust in advertising is becoming more and more important. Influence of family and friends and word of mouth from trusted sources help create real brand trust. It is important though to feed the funnel from the top to ensure all category users are reached and that scale is achieved.
Influence of family and friends and word of mouth from trusted sources help create brand trust.
Overall, influencer marketing can be used for:
Awareness
Lead generation
Sampling
Call to action
How do we measure influencer marketing and does it really work? Globally, eMarketer reports that there are no standardised measurements for influencer marketing. This is an issue on many fronts. Including:
No consensus on how to define a campaigns key performance indicators.
There are many social platforms which compounds the problem.
Poor measurement makes ROI difficult to prove
However, local content that is produced can be aggregated to a wider audience and measured in terms of metrics achieved namely:
An improved CPM
An increase in engagement rate
Reach potential
Conversion – ensuring a low cost per lead
Strategically where does it fit into the funnel? We know consumers are distracted through mass media, online activity and instore platforms. Influencer marketing increases reach by utilising user generated content and aggregating it across a broad target audience. In terms of scale, 50 Nano Influencers could reach more than two million people. Hence it has the ability to feed the funnel across all category users.
But a Nano Influencer campaign cannot work in isolation of a broader digital campaign. The different elements need to work together to ensure incremental reach for a maximum build. We can also build lookalike audiences to mirror the Nano Influencer campaign on programmatic and social to drive broader awareness and reach.
If used correctly, Nano Influencers can efficiently, and cost effectively, build brands and sell products.