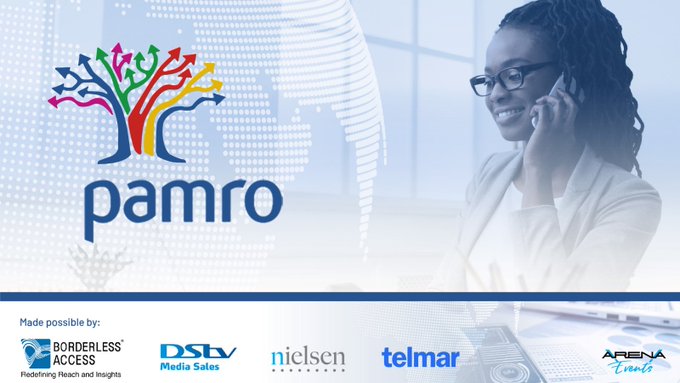 The 21st annual PAMRO three-day conference last week, saw 703 delegates join – a resounding record for the media research organisation. This can be contributed to a few factors explained Sifiso Falala, President of PAMRO. "Our annual conference is an industry highlight with live events previously hosted around Africa. Mauritius, Lagos in Nigeria, Cape Town in South Africa, and Victoria Falls in Zimbabwe were among our past successful events.
"This year we had to let go of our vision to gather as an organisation in Morocco for our annual conference and settled instead on a virtual event. The board decided that for the first time ever, the conference would be offered free of charge to delegates. It was also live streamed on Facebook which was new for us.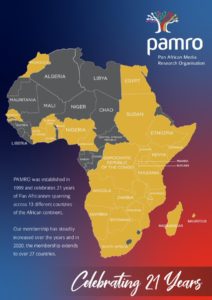 "So, in many ways 2020 has been a year of many firsts for PAMRO and our 21st annual conference became one of our most memorable! We now know that this virtual format of sharing knowledge and expertise has merits of its own," he said.
Falala opened the conference – aptly themed 'The story of African resilience: African decade, African data, African growth, by saying "We are Africans together, and it takes all of us to be African."
While economic indices have being negatively impacted, not everything has gone down, added Falala, "Some things have grown exponentially in the past eight months. Virtual communication, conferences, online presence, online presence intensity, shopping, gaming and entertainment, video content consumption, podcasts, social networking, and social networking platforms, among others. Devices and accounts on several applications are the new face of human beings."
COVID-19 has enhanced PAMRO's appetite for change and the organisations zest for knowledge is evident in the speaker line-up it assembled. "A lot of what was presented during the three days was refreshingly new – especially the sessions including COVID-19 media data." Speakers from top global brands including Coca-Cola and Al Jazeera provided compelling content. Some of the many highlights included the following case studies:
Delegates were privy to a glimpse into bot enabled research presenting a Coca-Cola case study, by Kambe Mwaba, Knowledge & Insights Manager, Coca-Cola Africa, SA, and Bev Tigar Bassett, AVP, Business Development, Borderless Access, SA
A fascinating Al Jazeera English case study presented by Sarah Messer, Director, Nielsen Media United Arab Emirates looked at how driving audience insights should inform a global 5-year plan for content, marketing, distribution, and digital strategy across TV and multiple digital screens.
And a panel discussion, described by master of ceremonies, Siya Sangweni as a 'power packed panel' debated and dissected 'data, data everywhere… but are we any better at answering "Why?". James Ingram, CEO of Splashlight & Telmar, and Founder of LiiV; Joe Otin, CEO of The Collective – Digital Ad Agency, and Mohammed Paruk, Trading Operations Manager, GroupM SA discussed the increase in availability of data, especially since COVID-19, and the impact that it has on marketers and advertisers
Actionable media insights about Affluent Africans and their fascinating spending habits, was presented by Annemarie van Elfrinkhof, Senior Research Executive and Charlie Fox – Associate Research Director both from Ipsos
A highlight of the annual PAMRO conference is the announcement of the 'paper of the year', which was awarded to team Kantar for the presentation titled 'measuring the changing economic landscape of Africa'. It was successfully presented by Karin du Chenne, Neil Higgs and Shramik Misra all representing Kantar. The strength of the paper rested in its seven-step data science solution for a socio-economic measurement system of status levels across Africa. "Congratulations team Kantar for an excellent paper and we look forward to hearing more from you in 2021" concluded Falala.
The free conference sessions were made possible by generous sponsors: Borderless Access, DSTV Media Sales, Nielsen and Telmar. To get access to conference papers or recordings of sessions please contact enquiries@pamro.org  If you are interested in upcoming events or becoming a PAMRO member see www.pamro.org