Springbok Rugby captain, Siya Kolisi, has announced he has chosen to join forces with Aquafresh as its All-in-One Ambassador and lead a nationwide campaign to inspire the people of Mzansi to reach their full potential.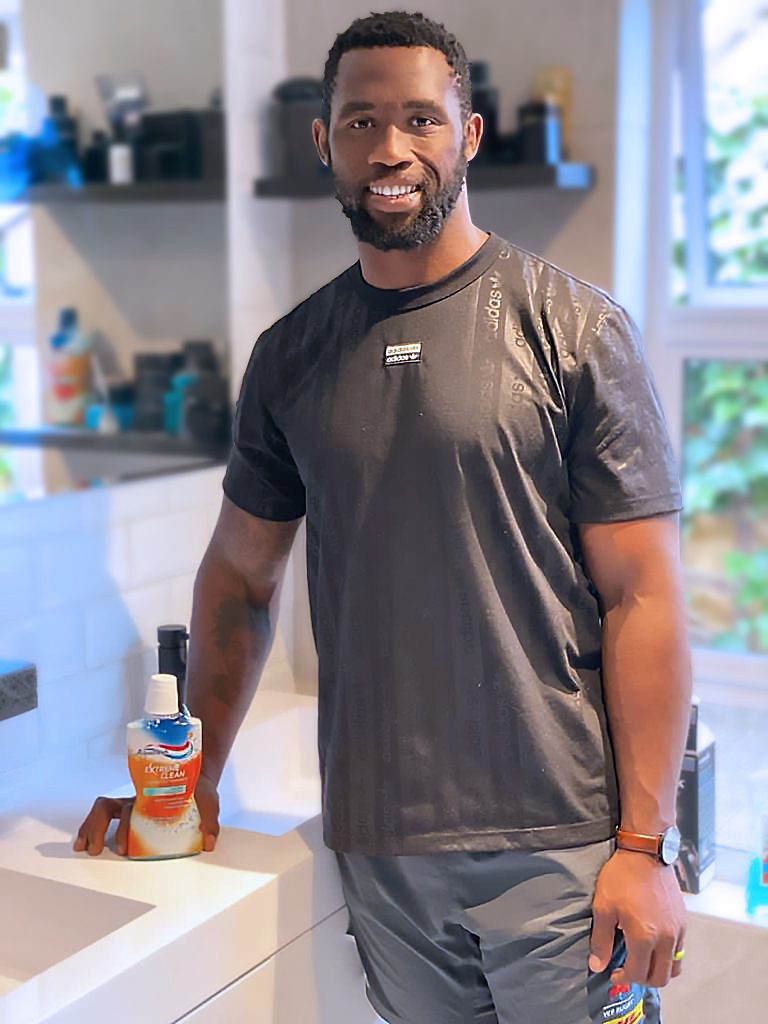 The 29-year-old who led the Springbok team to victory in last year's Rugby World Cup in Japan, currently plays club rugby for the Stormers in Super Rugby and Western Province in the Currie Cup.
He announced late in November 2020 that he has decided to team up with Aquafresh and will join the oral hygiene brand as its All-in-One Ambassador from January next year to reimagine its social outreach programme. The deal was negotiated by Roc Nation Sports.
Sharing details of his partnership with the brand, Kolisi said: "Aquafresh is a brand that has been with me all my life. Even when times were really tough and all we had were a few things in the house.
By finding confidence in myself, I managed to end up doing what I love. Now, with Aquafresh's help, I'm going to be able to help the people of Mzansi to realise that they, too, are All-In-One. The intention is to empower others like me to stand out regardless of where they come from."
Kolisi's objective for the 'You Are All-In-One' campaign he'll soon be launching is to help others get the same level of confidence in themselves that he had through Aquafresh. The Aquafresh-Kolisi partnership wants them to know that everything they need in order to make it in life is already inside them, he said. The campaign has been created by Aquafresh's marketing partner, MetropolitanRepublic.
"Siya's role as our All-in-One Ambassador is not a simple one," added Aquafresh's Brand Manager, Mamabua Molepo.
"Aquafresh believes that we can use our mouths to unite, inspire and impact our communities and the world around us. It's important to keep our mouths clean and healthy, because they serve this significant function.
"We did it for Siya. And now we're challenging him to help us do it for Mzansi. We want him to use his mouth for good!"
Molepo added it is logical that an oral hygiene brand would partner with a rugby player, because they celebrate the same characteristics – strength, performance, hard work. Aquafresh, however, is more than oral hygiene. It's a brand with a purpose, he said.
"By partnering with Siya, we can collaborate to create a campaign that furthers Aquafresh's purpose. He's not just a rugby player. He is a South African icon. An inspiration. A leader both on and off the field.
"But that's not where he began and not only does he acknowledge and embrace where he came from, he makes a concerted effort to empower others like him to be the best that they can be. Instead of just basking in his success and living the high life, he is using his life to show how anyone, from anywhere, can also achieve more than ever dreamed.
"With Siya as our guide, Aquafresh is going to celebrate individuals who have done what it takes to start something, and motivate and inspire them to keep going even though they may face challenges. It's a yet to be charted journey – we haven't carved any plans in stone to date – but it is one we are excited to start."
Follow the Siya Kolisi-Aquafresh You Are All-In-One campaign here (Facebook: https://www.facebook.com/AquafreshZA  Instagram: https://www.instagram.com/aquafreshza/ & Twitter: https://twitter.com/AquafreshSA