Just weeks after opening satellite offices in the United Kingdom and Ukraine to work with the clients it signed in Europe at the beginning of the year, South Africa's trailblazing through-the-line marketing and experiential agency, RAPT Creative, has appointed Khangelani Dziba to establish and lead its new Public Relations & Influencer Partnerships division.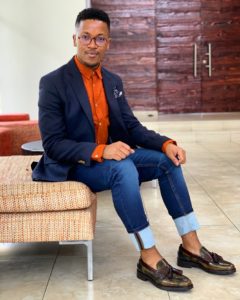 With qualifications in journalism, and soon to be completing his Masters in Brand Leadership, Dziba joins RAPT Creative as Head of Public Relations and Influencer Partnerships after working for notable consultancies and agencies including Fleishmanhillard, DNA Brand Architects and Group Africa Marketing.
"I am super thrilled to be joining this one-of-a-kind creative agency that, in its infancy, is punching above its weight to bring ground-breaking solutions to brands in search of an innovative way of communicating," said Dziba.
"PR has, along with the aggressive evolution in the brand communications space, changed dramatically. As a result, now more than ever, there is a need for PR solutions to be disruptive, inclusive of current trends and innovations, while keeping brand purpose at the core of it all. What would have previously been seen as challenges to the space are now tools which the industry can use to pivot and bolster its offering to clients," he said.
"When we were evaluating our business offering, we realised the need to expand our services to include PR and influencer marketing. This was fueled by the fact that our ever-changing environment requires a transdisciplinary approach if we are to offer clients the most effective and meaningful brand solutions," said founder and group Chief Executive Officer of RAPT Creative, Garreth van Vuuren.
He added that PR is a highly specialised discipline which is proving to be an asset to RAPT Creative's business model. "I am a firm believer that digital, social media and PR should live as one function and bringing someone like Khangelani onboard will assist us in bridging that gap enabling us to dramatically differentiate ourselves from our competitors in what is already known as an oversaturated space.
"It is no longer enough for the PR function to push 'earned' opportunities and exposure. With the convergence of media and the blurring of the lines when it comes to marketing and advertising disciplines, PR has to shape and inform the messages wherever the conversations take place and opinions are aired. That's Khangelani's job.
"My hope is that he shifts the PR needle by merging the discipline's necessary systems and processes with that which is called for by the 'new media age. This will enable the brands we work with to resonate better with current and new market segments," concludes van Vuuren.
According to Dziba, after almost a decade working for some of the industry juggernauts, all of whom inspired him to briefly head up his own consultancy, the opportunity to join RAPT Creative could not have come at a better time.
"I have often written about my passion for PR and the need for practitioners to be able to merge what I believe are necessary industry disruptors into the solutions agencies offer brands. My role at RAPT Creative will allow me to do just that, and I am excited for what the future has to offer," he said.
Dziba has worked across multiple blue-chip clients in various industries including but not limited to Standard Bank, Nestlé, Vodacom, USAID, Clark & Sons, Bongang Matheba and Penrod Ricard. He will be based at RAPT Creative's Johannesburg headquarters but will work closely with all business units across Cape Town, Johannesburg, UK and Ukraine.