Content marketing specialist Narrative has again scooped up the Best Corporate Website in the 2018 SA Publication Forum Awards for the Sanlam Reality website. This is the second year the website has received this prestigious accolade. "The key to the site's success is the rich content experience it offers members," says Narrative Content Director, Robyn Daly. "Content is the glue that connects members to their loyalty programme and is key to driving the engagement objectives of the programme as well as the greater imperative of Sanlam, which is to enable clients to become Wealthsmiths."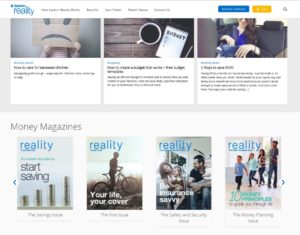 The competition, now in its 17th year of running, aims to reward excellence in internal and external corporate communication media and the Best Corporate Website award is hotly contested by the big brands. The new Sanlam Reality website came to life in February 2015, and straight away won the Best Corporate Website award. Far from resting on their laurels, the Narrative content team and Nurun web development team have continued to work together to create a website that merges content and functionality, and provides Sanlam Reality members with a seamless user experience.
"We continuously review the site and how members are using it and then make refinements based on these insights. Recently we upweighted the infographic content to around 80% and this has further improved navigation and the website's ability to serve bite-sized information to members quickly and efficiently," adds Daly. These improvements were indeed noticed by the judges who complimented Narrative on the use of infographics, the strong articles and the many useful tools and calculators.
"It's a great privilege and honour to receive this reward for the second time in 3 years! It's testimony to all the hard work of getting our website to deliver the best UX possible and our ability to embrace new technology to solve complicated problems for our members. Since the website is our number one channel of member engagement we pride ourselves in our ability to understand the needs from our members and respond with solutions around content, personalisation, design and navigation that results in a seamless and well defined member experience," says Francois Uys, Sanlam Reality Head: Digital, Marketing & Communications.
Narrative is the content marketing specialist within the Publicis Machine group, and was founded in 2013 by Neal Farrell and Robyn Daly. Sanlam Reality was one of the first clients they won and the relationship has grown from strength to strength.