South African contemporary performance artist, Desire Marea, is an unapologetic force of nature. As one half of the pioneering cultural movement known as FAKA – a cultural movement he started along with his friend Thato [AKA Fela Gucci]  – Marea has not only taken the local music and art scene by storm, but has also gained international fame, having recently travelled abroad to grace European audiences with his incredible talent and presence.
Marea graduated in 2014 with an IIE Bachelor of Arts in Creative Brand Communications from  The Independent Institute of Education's Vega School , and has flourished in the creative space since. In 2015, Marea featured on 10 and 5's list of Breakthrough Artists in South Africa and won the Nestlings Award for Young African Performer of the Year, celebrated for his contributions to creating FAKA's 'ancestral gqom gospel sounds'.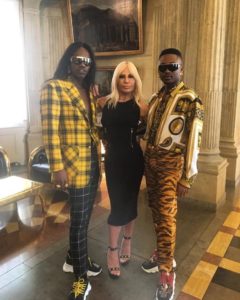 Marea's impressive list of achievements continued in 2018, with Marea and Fela Gucci performing at music festivals in Berlin, Vienna and London earlier in the year, and most notably FAKA's hit song, 'Uyang'khumbula', was chosen by Donatela Versace as the soundtrack of her Milan fashion show this June.
Following his rise to success in a challenging and often all-too-critical industry, Marea shares more on the FAKA story, and advice for young creatives hoping to follow in his footsteps.
How did FAKA come about?
We started FAKA in 2013 during my second year at Vega, but we were in different cities at the time. We were able to explore the project more effectively when I had the opportunity to move to Johannesburg after my final year.
I wanted to be an author. I still do.
But I was healed by music and I felt like I had been performing my entire life. Over the years, both myself and Fela Gucci went through experiences that gave us the clarity we needed in order to be more specific about the mediums we chose and we saw the potential to perform new realities into existence – for ourselves and others.
How challenging was it to pursue your dream while studying? 
It definitely wasn't a walk in the park. It required a lot internal labour and access to resources to be able to make an impact successfully. But I would say the IIE curriculum at Vega was designed in ways that allowed me to interpret theories according to my own unique life experience. That liberated me because education then transformed into something that would help me make sense of my world, in a way that empowered me to change it. The highlight for me was having educators who encouraged us to integrate our identities into our work. That was important to me.
My experience at Vega was special and complex. Special in a sense that I grew into the leader I always wanted to become, built valuable relationships, and learnt the craft that has helped sustain my ideas.
Tell us about the performances in Europe and the experience of performing abroad? 
Performing abroad puts a lot of things into perspective. We had the opportunity to play on some of the most prestigious platforms. We shared stages with artists I used to stick in my Creative Development process book. But above all, we felt like we were there to heal and educate, and we saw the potential for Africa to lead the discourse of queer liberation on a global scale. That was affirming.
What is your advice for young creatives hoping to pursue a similar path to yours? 
Stay true to yourself. Practice discernment. Don't be afraid to use your voice to sing praises to yourself. Know your value because the industry takes advantage of those who don't. And always remember why.