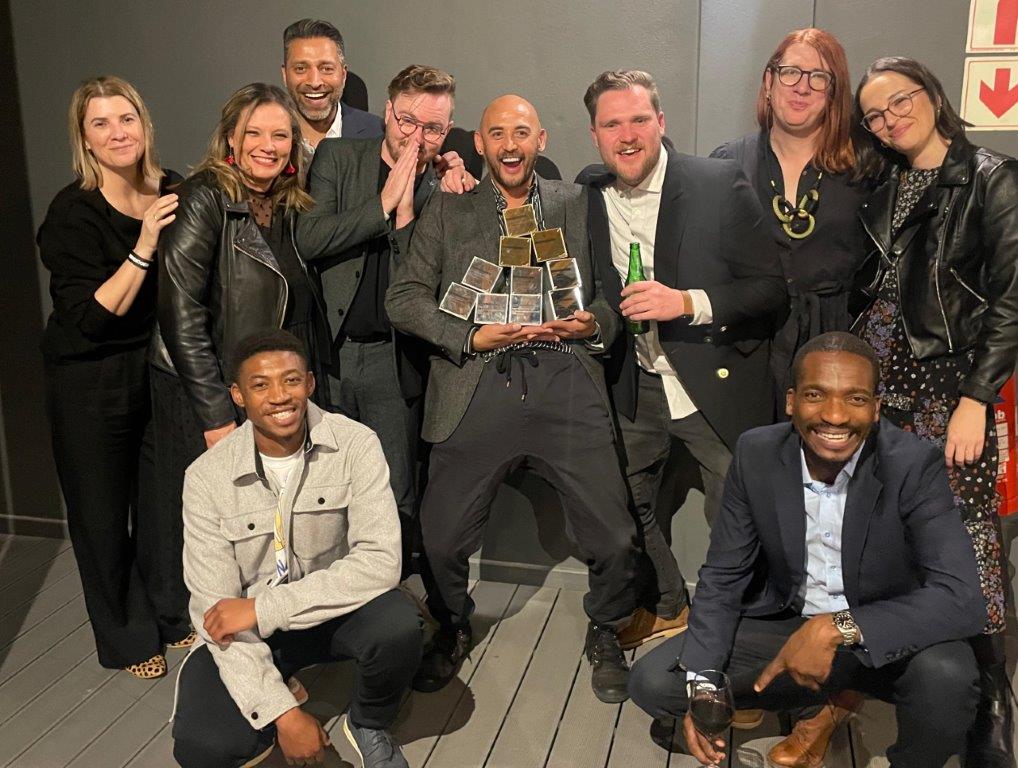 A standout performance at the recent IAB Bookmark Awards marking the tech-powered creative group's inaugural showing as Accenture Song, saw the agency topping the leader board as most awarded in the country with a total of 19 wins by the end of the night.
An initiative that sets the benchmark for tech, digital and leading edge innovation, The IAB Bookmark Awards recognizes work that builds brands through creative and high impact digital solutions that deliver measurable results. Which included three Gold Awards for Accenture Song's LI:FE of Confidence campaign for Sanlam across Influencer Marketing, Social Media Innovation and Online Video Series. The campaign also scooped a further six Silver and three Bronze awards in various categories, including: Strategy, Production and Interactive Mixed Media.
"It has been a huge honour to be recognised in such an outstanding way for the creative work we do for our clients," says Haydn Townsend, Accenture Song Lead for Africa.
With wins across a diverse mix of clients and categories, additional awards were also scooped for WESGRO Play before you stay, Santam Guardians, Marmite New & Unimproved and Engen Social Communities.
"Where we may have won the most awards of any agency in the country, what is most satisfying is that they were across the widest spectrum of channels and clients – from financial services, to FMCG, to tourism to energy," says Matt Ross, Chief Creative Officer at Accenture Song.
"We pride ourselves on delivering world-class quality of work for ALL our clients, not just one or two," Ross adds.
"We've been working incredibly hard to build Accenture Song into a new breed of agency. One that has a truly end-to-end offering with best-of-breed specialists in every discipline. Meaning our clients make no sacrifices in quality and we can help them grow at the same pace that the world is changing," concluded Townsend.
Accenture Song's full list of awards, included: 
Sanlam LI:FE of Confidence

Gold in Social Media Innovation
Gold in Influencer Marketing
Gold in Online Video Series
Silver in Social Media Campaigns
Silver in Digital Integrated Campaign
Silver in Strategy
Silver in Platform Innovation
Silver in Campaign Microsites
Silver in Interactive Mixed Media
Bronze in Online Video Production
Bronze in Digital Campaign Strategy
Bronze in Digital Mixed Media Campaign

WESGRO Play before you stay

Silver in Games
Bronze in Interactive Design
Bronze in Software, Coding and Tech Innovation
Bronze in Platform Innovation

Engen Social Communities

Bronze in Social Communities

Marmite New & Unimproved

Bronze in Social Media Campaigns

Santam Guardians

Bronze in Mobile Campaign
The Sanlam LI:FE of Confidence campaign
"When people think of their future selves, the brain works in the same way as when you think of a stranger. It is literally biologically impossible to consider your future self in an accurate way," says Ross. "Which is a problem when you're trying to plan for a financial future."
"But the natural cadence of a day is something that we are programmed to conceive."
So, we created Zesande. The world's first age-fluid virtual influencer. She lives her entire life in one day. Every day. And at each age, Zesande, teaches the most important financial life concepts for that stage of life – when they are most crucial for people, assisting them in realistically visualising how their financial lives will develop over time. In every channel across the internet – from social to the Metaverse.
"At Accenture, we recognise that digital channels are now the centre of everyday life. These awards bring unparalleled further stimulation and motivation for creatives to continue pushing the boundaries of what is possible," Ross concludes.