Netwerk24, Ads24's premium home for Afrikaans online journalism, proved itself a winning candidate in South Africa's 2019 elections, by providing up-to-the-minute election results, analyses, commentary and video streaming of events as they unfolded over the week.
Together with its sister site News24, the two digital stars reached stellar heights with an enormous spike in web traffic over the election period spanning 8 to 10 May 2019.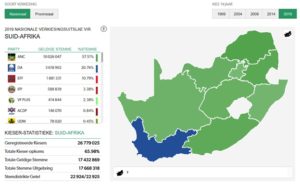 Netwerk24, South Africa's biggest subscription news site, saw traffic spike to more than 250 000 unique browsers on 9 May and almost 205 000 unique browsers on 10 May across its app, mobile, web and desktop platforms. These are increases of 92% and 57% respectively compared with the average for daily unique browsers for April. Total page views on the site were 55% higher during election week compared with the previous week.
A large part of the web traffic increase was due to the live results map, which seamlessly integrated the IEC's data and presented it on a clickable map, allowing the public addictive, up-to-the-minute national and provincial results per province as the votes were tallied. This, in addition to live blogging for 85 hours, from when the voting stations opened at 7am on Wednesday 9 May to 8pm on Saturday 11 May when the official results were announced.
Prior to the elections, Netwerk24 ran a podcast series featuring interviews with leaders and heavyweights from the major political parties to create truly holistic coverage that allowed all South Africans in-depth insights to make informed voting decisions.
Remember to follow Ads24 @Ads24_News