The second annual Madex show, the ultimate marketing, advertising, design, social media and all that good stuff expo, recently provided solutions to the challenges faced by marketers across all industries, helping to breathe life into stale campaigns and put a shine on new strategies.
Co-located with Markex, Africa's premier promotional product event, now in its 31st year, the two expos delivered the A to Z of marketing, covering all things below- and above-the-line.
In combination, Madex and Markex 2018 attracted almost 6,000 visitors, drawing in thousands of promotional product resellers, as well as representatives from the advertising, publishing, events planning, PR, packaging, technology, hospitality, industrial, financial services, and entertainment sectors, to name a few.
"Once again, we saw massive interest in our two seminar theatres, The Fundamentals, which targeted those starting the climb up the marketing ladder, and The Marketing Academy, aimed at honing the talents of those more senior professionals," says Nick Sarnadas, Portfolio Director at Specialised Exhibitions Montgomery.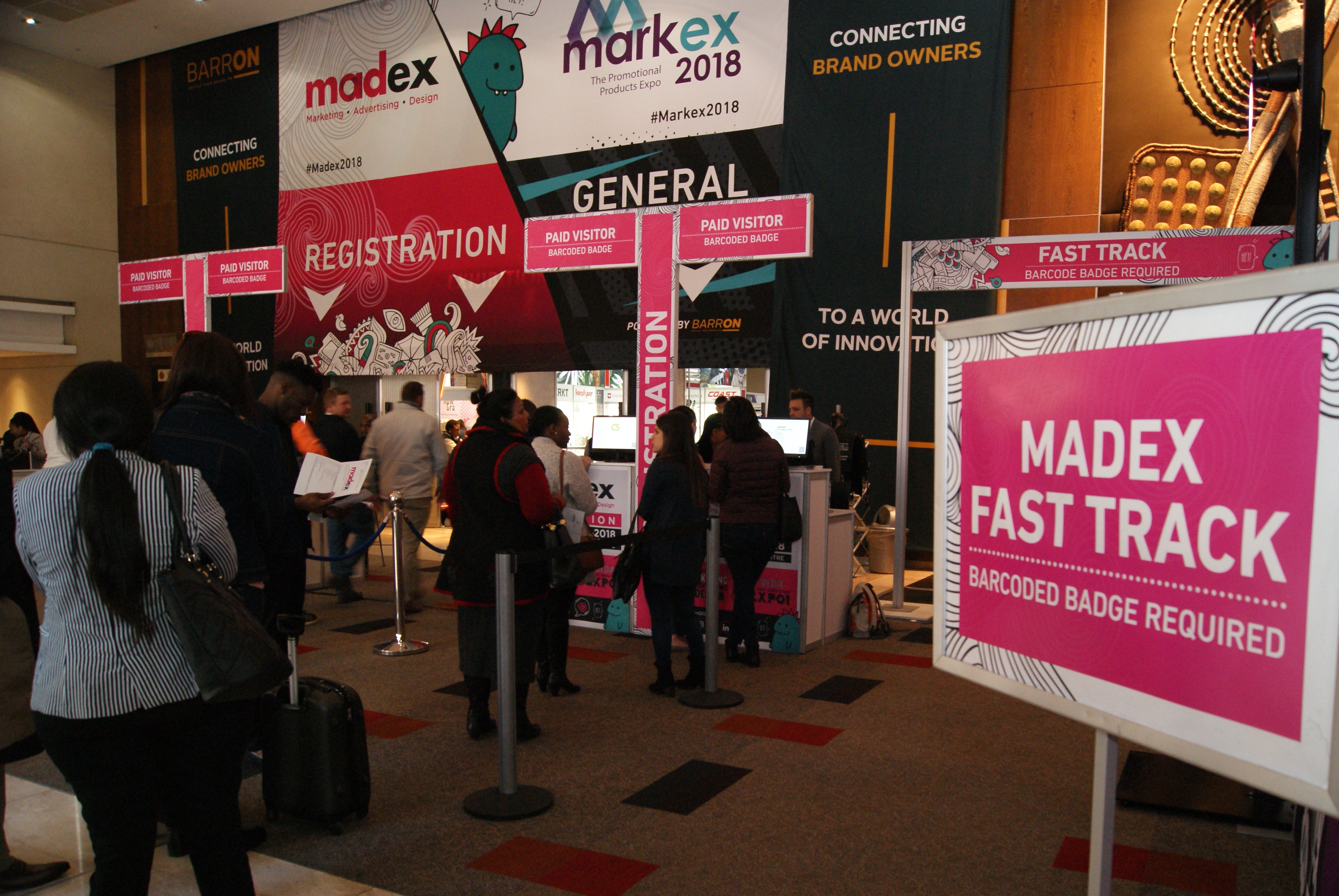 "Many of our more than 50 content sessions were filled to capacity, and included presentations by John Vlismas, Jodene Shaer, Femi Adebanji, Chantelle Booysen-Fourie, and Mike Sharman, as well as many others. This serves to underscore the fact that local marketers are hungry for expert content, which we believe is a major drawcard for Madex and Markex attendees.
"A panel discussion on using promotional products during tough economic times drew in a sizeable audience. This discussion was hosted by veteran journalist, radio host and television presenter Jeremy Maggs, and featured experts from Markex headline partner Barron, a corporate and promotional products company, Specialised Exhibitions Montgomery, and life insurance provider Yalu."
In addition to the on-point sessions run within the seminar theatres, viewers were treated to a sneak peak of the winning South African entries of the Cannes Young Lions competition 2018, as well as South Africa's Best Liked ads of 2017 by Kantar Millward Brown.
Looking at attendee statistics, Madex 2018 saw 84 international visitors, from African countries including Angola, Botswana, Lesotho, Malawi, Mozambique, Nigeria, Swaziland, Zambia and Zimbabwe. Of the expo's total audience, 40 percent were between the ages of 25 and 34, 26 percent were aged 35 to 44, and more than half held senior management positions. Furthermore, 86 percent of the visitors are in positions to make or influence purchasing decisions.
From a Markex 2018 perspective, over fifty percent of visitors were between the ages of 25 and 44, 45 percent were senior management, and 93 percent make or influence purchasing decisions. There were 2,230 Trade Only attendees, 33 percent were first-time visitors to the show, and 240 arrived from beyond South Africa's borders, including 15 African countries.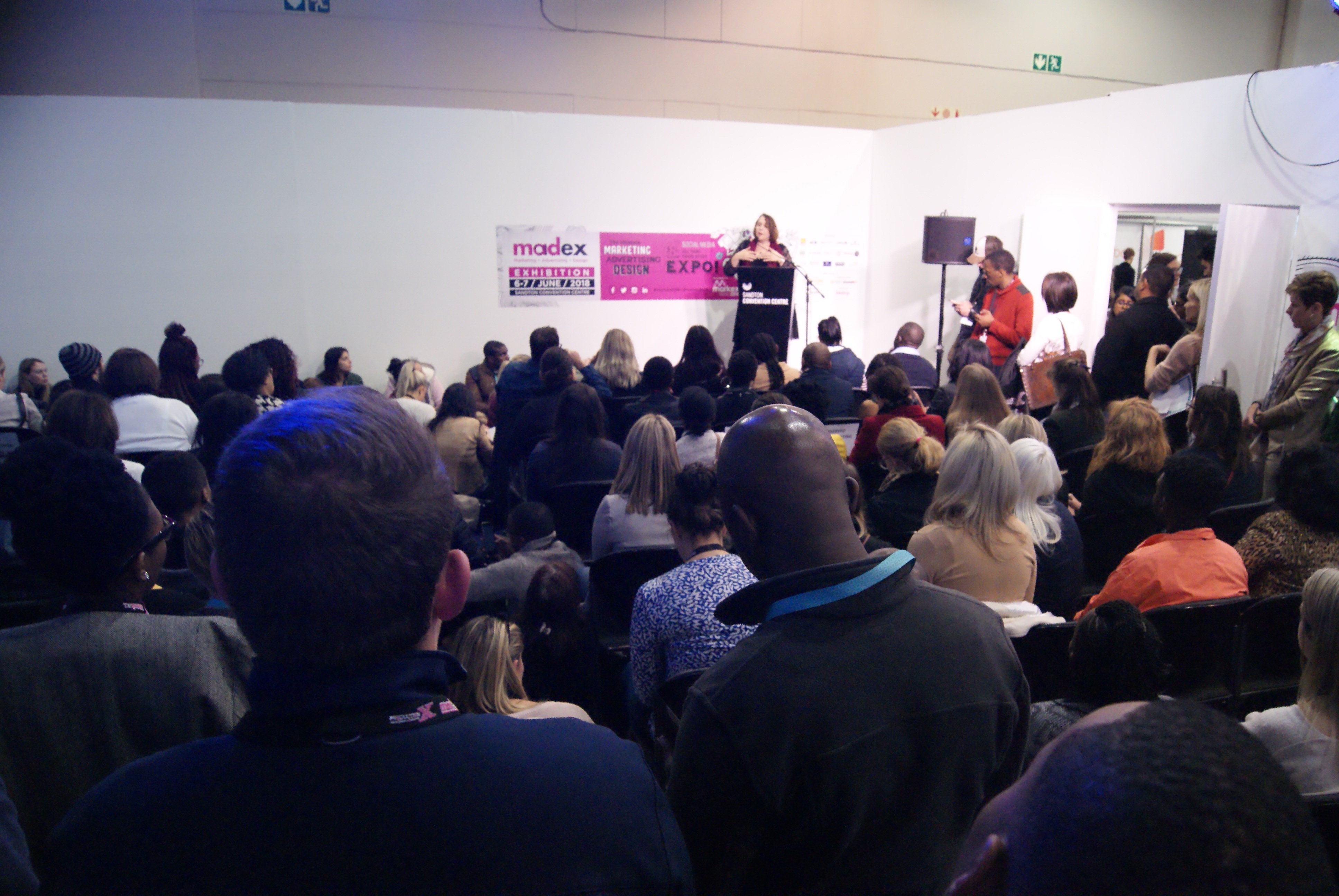 "Our social media platforms, both before and during the shows, highlighted the fact that these channels are critical for engagement with Madex visitors in particular," Sarnadas explains. "Thanks to our attendees sharing their experiences at the show, #Madex2018 trended three times over the two-day show. We also welcomed eight 'influencers', who played a critical role in our extended reach."
Madex and Markex 2018 featured an interactive exhibition floor, showcasing more than 100 exhibitors covering an array of marketing offerings, from corporate gifting and branded goods, to a variety of value-adding services.
"We also received fantastic support from the industry's associations, including MASA (the Marketing Association of South Africa), PRISA (the Public Relations Institute of Southern Africa), SAFREA (the South African Freelancers' Association), EXSA (the Exhibition Association of Southern Africa) and AAXO (The Association of African Exhibition Organisers)," adds Sarnadas. "In fact, we celebrated Global Exhibitions Day (#GED18) on the first show day in conjunction with AAXO and EXSA, launching the first Exhibition Games competition.
"With a New Product Display dedicated to the hottest promo products for viewing, fun additional features for the shows included a Doodle Wall, which was filled with people's thought and artistry at the end of each show day," he concludes.
Madex and Markex 2019 are set to take place on 5 and 6 June 2019 at the Sandton Convention Centre. Visit www.madex.co.za or www.markex.co.za for more information or to book your exhibition space!